When the contact list is not showing the full amount of contacts this can be because of two items. the contact list for the user can have a filter for contact type or account manager on it, or the contact in question could be a private contact.
To check to see if a filter is in place, select the magnifying glass in the top left by the contact list search bar. From the drop-down ensure that under contact type all contact types are checked in.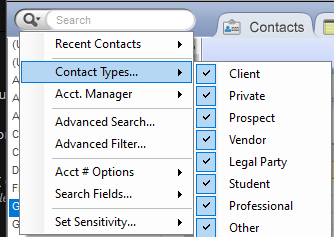 If the above does not resolve the issue from the magnifying glass drop-down ensure that all account managers are unchecked.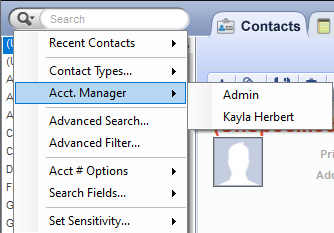 Finally, if the two filters are showing as above and the user is still unable to see the contact in question, but another staff member is the contact may be set to private. A private contact is only able to be seen by the staff/user that sets the contact to private. Have the staff member that can see the contact check the contact type in the top right of the contact tab. If it is showing as private, the staff will need to change it to any other contact type selection.