Change Default Address Email Contact List
INTRODUCTION:
You can customize which Address List is loaded when you first start Outlook.
APPLIES TO:
Any APC user who would like to customize which address list loads at startup.
REQUIREMENTS:
A valid Microsoft Office license that includes Outlook.
PROCEDURE:
How to change default address/email contact list from default Global List
In Outlook 2010, Outlook 2013 and Outlook 2016 > Click on Address Book icon on the right side of the Home tab in the Ribbon.

In the Address Book dialog box, click on Tools > Options

Use the dropdown list for "When opening the address book, show this address list first" to set your preferred address list.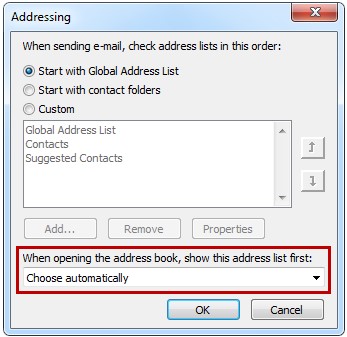 Click Ok. Close the Address Book dialog.