The schedule has a few key parts and other smaller features. When navigating to the Schedule, the first thing you see is the Schedule Toolbar.

The plus icon + is to add an appointment, the pencil is to edit, the trashcan is to delete and the printer icon is to print a schedule report. You can also search appointments by selecting the magnifying glass,

You can also copy information to another appointment, create a timecard, start a timer, or access the Schedule settings by selecting the two gears. Within the Schedule settings, you can change your schedule intervals, and choose to/how you want to show events on your calendar.

Past the settings icon, you can change the view of the calendar to Day view, Week view, or month view. The Manage button can be used to edit/delete already created appointments. The Portal button is to adjust your Portal availability if you are using the Scheduling feature with our OfficeTools by CARET Portal.

Next, you'll see the Selected Staff field in the top left. This field will automatically populate with the staff member who is currently logged into that workstation. If you have the user rights, you will be able to click on the drop-down menu to navigate to a different staff member.

Below the selected staff member, you will see the date/ date range of the current view and a glance of a 3-month lineup. Selecting a staff member in the Selected Staff field will display that staff's calendar in the view you have selected on the toolbar.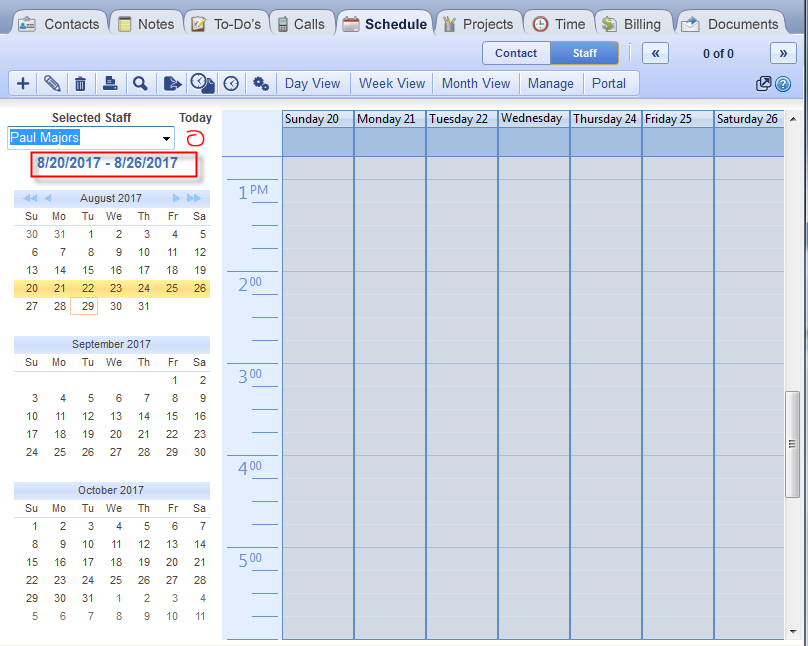 In the top right corner, you will see two buttons, Contact and Staff. This controls what view you are seeing. By default, you will be in Staff view for the Schedule, but selecting contact view will show all of the currently selected contact's appointments, as opposed to the staff's appointments. You can also scroll through the Contact's appointments by clicking on the left and right arrows.