---
There are times when users need to restrict data in Amicus. This can be because of Ethical Walls or because items are marked Personal (e.g. Contacts and\or Calendar events)
Steps to restrict specific data
In the example below we will use a calendar event.
Lawyer has an appointment he does not want other members to see.
He creates a calendar appointment: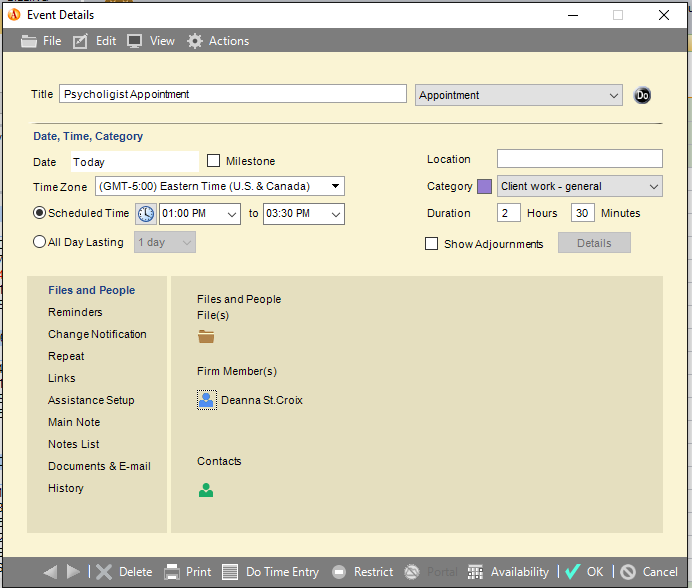 To restrict this appointment:
1
Select the Restrict option bottom center.

2
select Visible only to assigned firm members (in this case the lawyer and his assistant)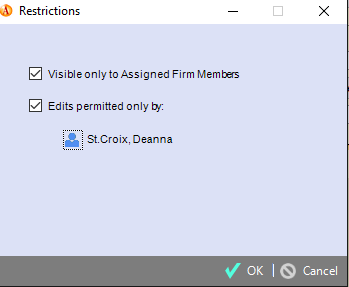 3
Assign who will be able to edit the appointment (can be both or just one user)
Other users with the exception of the two assigned members will not be able to view this appointment. Only the lawyer in this case has access to Edit the appointment.
When an item is restricted the Restrict item will be Red:

You can remove the restrictions by select the Restrict option. Please note that only those assigned will be able to modify the restrictions.
Restricting Files is done when there is an Ethical wall enabled or when HR is working with sensitive employee files\contacts etc. You can restrict most data in Amicus. If you restrict an entire file only those users you have granted access to will be able to see the information.