---
The Outlook signature Amicus by CARET is using is incorrect\not there
Amicus Attorney by CARET uses your default Outlook signature. When you create an email from within Amicus Attorney by CARET it loads an Outlook email and should populate with your default email signature. This applies to the Outlook or the Exchange email link.
Troubleshooting steps:
Make sure Outlook has a default signature:
1
Open Outlook
2
Select New Email
3
Select Signature

4
Select Signatures from the drop down menu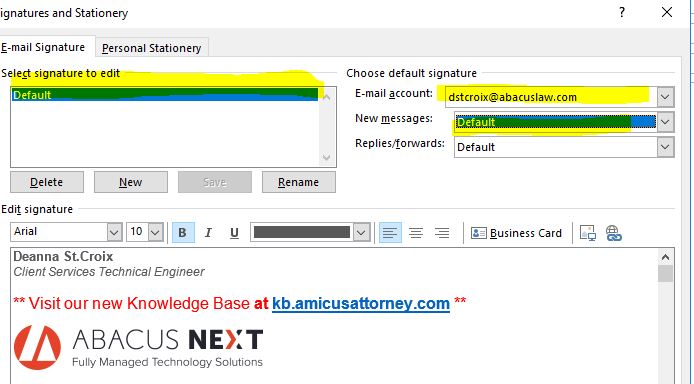 5
Make sure that you have specified a default signature on the left side and on the right side make sure that signature is set under New messages and Replies/forwards.
Refresh the Outlook signature from within

Amicus Attorney by CARET

.
1
Select the Amicus Attorney by CARET Communications tab
2
Go to Actions – Outlook Email – Set Outlook Signature
3
Create a new email from Outlook and it will pull the default Outlook signature