---
When saving and closing a File you receive an error that the client and\or matter ID is already in use.
Due to links with third party applications and for general good practice, Amicus Attorney by CARET does not allow for duplicate Clients Ids.
Steps to resolve:
Please note that you will need access to Firm Contacts for a proper search.
1
Access the people module.
2
Select the Magnifying\Search option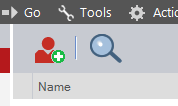 3
Select Firm Contacts and type in the ID and check off Client ID field to search.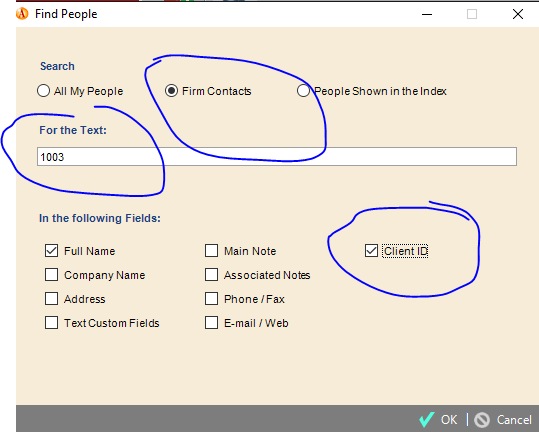 4
Click OK
5
Look at the list of contacts displayed and you will notice there is a duplicated client ID
To show the Client ID field right click on the title bar of the people module, select Show Fields are add over the Client ID field.
6
Open the contact to determine which one is the correct primary client for the file(s).
7
Look at the Files option to determine which files are assigned to the contacts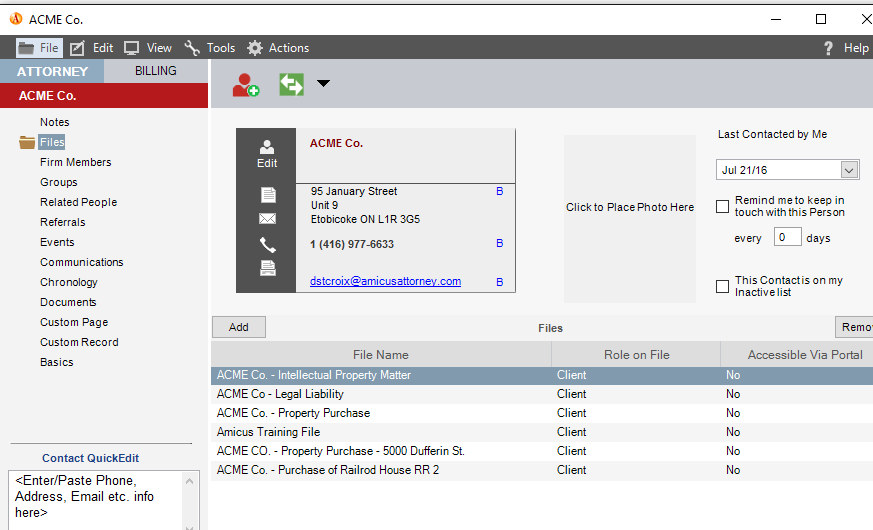 8
Assign any files from the incorrect contact to the proper Primary client contact. To do this you must first remove the Client ID from the incorrect contact.
Removing the Client ID from an Incorrect Contact:
If you are linked with an accounting package you will need to set the link to Manual Entry. Access Firm Settings – Time -Accounting – Configure and set the link to manual Entry. Log out of Amicus Attorney by CARET and back in again.
1
Open the contact
2
Select Edit.
3
Remove the Client ID

4
Remove files assigned to this Contact record.

5
Save and close the Contact.
6
Assign the file(s) to the correct primary client
7
Set the link back to your accounting package (PClaw\Timeslips\QuickBooks)
You will now be able to save and close the file.
Please note that changing the client ID on a Primary client will update it for all attached files. Also make sure that this ID matches the one you have in your accounting package.