---
From the Amicus Cloud taskbar in the Files module, click New.

A File can also be created from the Amicus Cloud taskbar in any other module's main view. Click the New dropdown menu, and select File.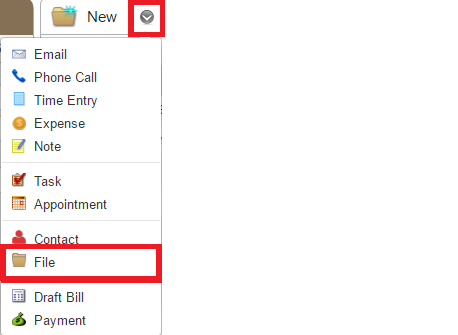 Alternatively, when creating a new Contact, Email, Appointment, Task, Phone Call, Time Entry or Expense and then associating it to a File, the Select File window will appear where a new file can be created.

2
Enter Details in the General View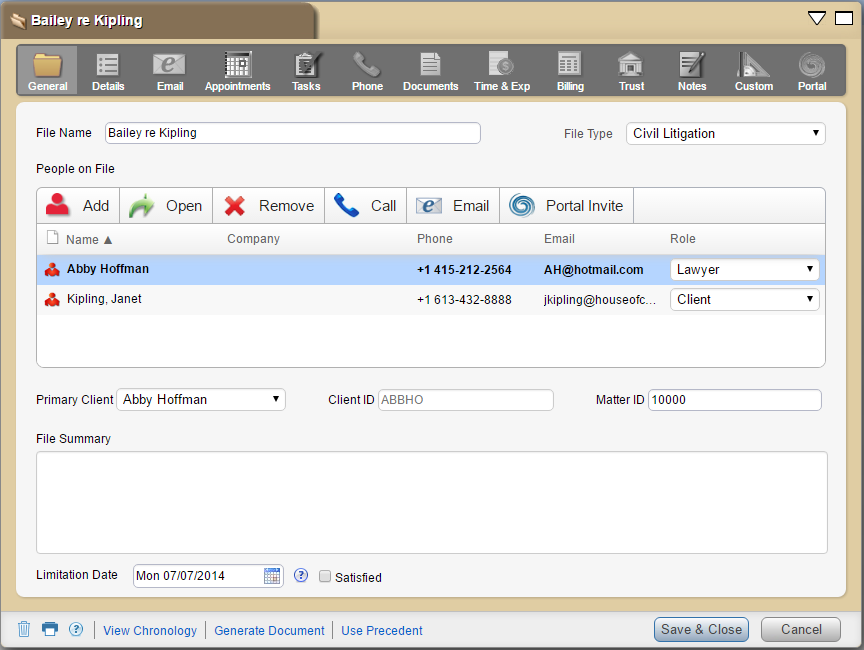 Contacts: associate one or more contacts with the File and indicate their role (Client, Lawyer, etc.). In order for this file to be invoiced a Primary Client must be selected.
The billing name and address on an invoice comes from the Primary Client's contact details.
Matter ID: if the firm has time entry posting to QuickBooks™ or PCLaw™enabled then the Matter IDis required. It might also be required if the firm has the QuickBooks Link (for billing) enabled.
Client ID: if the Primary Client on this File has a Client ID set in their contact record it will be shown here. Otherwise you will be prompted to enter it at this point if necessary.
Limitation Date: this field will only become available if the assigned File Type (ex. Civil Litigation) supports it.
3
Enter details in the Access, Settings, and Billing tabs
Responsible Lawyer: For billing purposes, you can specify one of the firm members on the File as the Responsible Lawyer. It does not affect access to the File.
File Status: You can toggle the File status from Special, Active, Closed or Dormant. You can add the Full Matter name and add a Referral Source as well.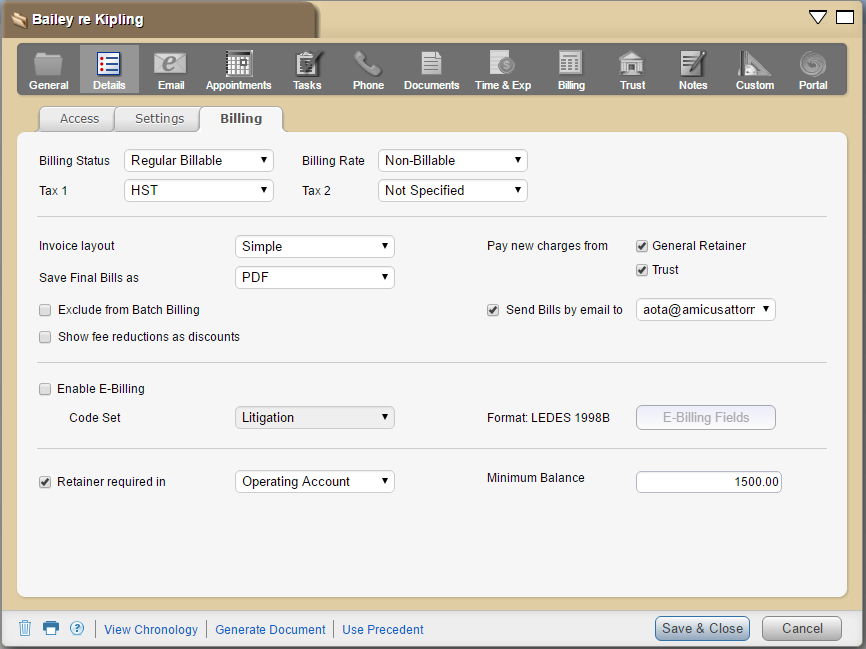 Billing Status, Billing Rate, and Taxes: Provide defaults for time entries and expenses on the File which are applied when a time entry is created from within the File view. If you set the Billing Rate to Fixed Fee a new field appears that will allow you to enter the fixed amount.

Amicus Cloud options let you customize the firm's lists for File types, billing statuses, and billing rates. You may do this by selecting "Manage this List" option in the drop-down list in a File window or from the main Options in the top right corner of the main view.
If you later change the File Type, the data in ALL custom fields will be permanently deleted from the File.
4
Enter additional details and create associated items
Custom Fields: enter data into your custom fields if required
Notes: any pertinent notes can be stored in this location
New Items on the File: Email, Appointments, Tasks, Phone Calls, Documents, Time Entries, and Expenses created from the File are automatically associated to it.