---
How to apply Amicus Updates

Updates to Amicus Attorney will be available periodically. Notification of a new Update to your current version will be sent via Sticky and e-mail to designated Amicus Administrators, provided that your Server is connected to the Internet. Updates are generally cumulative, meaning that you only need apply the latest to benefit from all previously released updates.
Managing Updates:
1
Go to Office > Firm Settings to display the Firm Setting dialog. Click Updates under the Maintenance heading.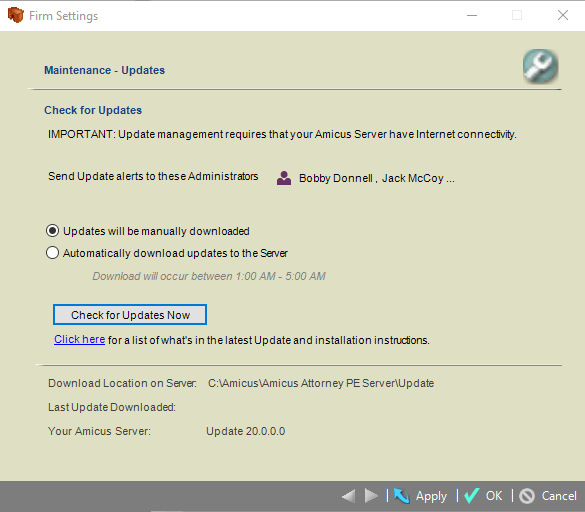 2
Complete the following fields:
Click the person icon to select which Administrators will be automatically notified of new Updates
Choose whether Updates will be automatically downloaded overnight, or you'll manually download them when desired. Note that updates to your Amicus Server are not automatically applied as it may be necessary to first log all users out and shut down the Amicus Services.
Click Check for Updates Now to check whether there's a new Update that has not yet been downloaded.
Select Click Here for a document listing what's new in the latest available Update and instructions for applying it.
Applying Updates:
Applies to: Amicus Attorney 20 (with/without Amicus Billing)
At the Server:
1
Ensure that all users have logged out of Amicus (including Amicus Anywhere, TimeTracker, and Client Portal).
2
From Windows Start Menu > All Programs or All Apps, go to Amicus and click Apply Update. (Or open the Apps view of the Start screen, and under the Amicus category click Apply Update.) OR Go to the download folder \Amicus\Amicus Attorney Server\Update and double-click AmicusUpdate.exe
At the Workstation
1
The Workstation on the Server is automatically updated. No prompt appears at login.
2
Upon login at other Workstations, a prompt to allow the program to update your computer might appear. Click Yes
3
If login fails, update the Workstation manually as follows:
– Ensure the Firm Member is logged out at the Workstation
– Connect to \\YourAmicusServerName\Install\Workstation\WorkstationPatch\20.0.0.0-
20.1.2.0 (e.g.)
– Double-click AmicusUpdate.exe.
After applying the Patch, the About dialog (from Help > About Amicus) displays:
Server: 20.1.2.0
Workstation 20.1.2.0
Database 20.1.2.0