---
Amicus Cloud makes it easy to draft and send an Email, from anywhere, within Amicus Cloud.
1
From the Amicus taskbar in any view, click New (If done from a view of a file, the file is assigned by default.)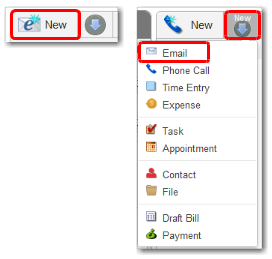 Or, from the Contact List in the Contacts main view or the General view of a file, select a contact and click Email.

2
Enter Details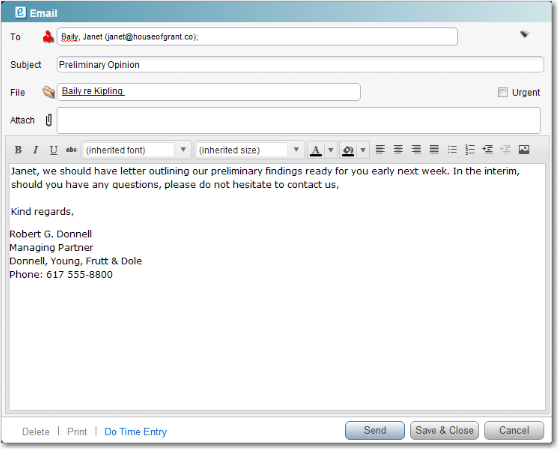 Recipients can be identified by typing a partial name or email address into the 'To' field, as long as they are in your contact list.

Should you wish to send to multiple recipients, type a semicolon and space between each name.

To show the Cc and/or Bcc box select the corresponding option from the down arrow at the right.

Attachments: You can add one or more attachments. To add attachments, click the paperclip icon and browse to the items. To remove an attachment, click the X button to the right of its name.

Urgent: Mark the email as Urgent (high importance) if you like.

Message and signature: Enter the message. The email signature set in your preferences is added automatically to the message.

Time entry: Optionally create a time entry for the email. You can set a preference to have a time entry automatically created whenever you send a new email, or have a prompt appear.
You can also identify recipients from the Select Contacts window. Click the red Amicus people icon for a window from which you can select contacts and firm members, or even create new contacts.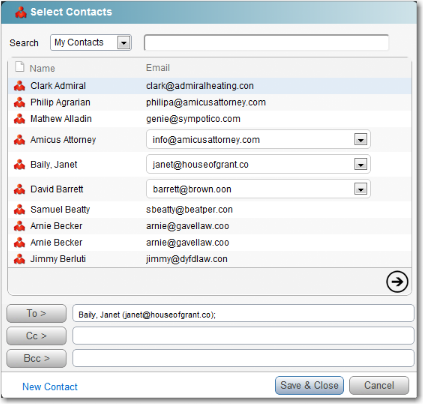 Filter the list: Filter to your contacts or the firm members (and user groups). Or filter the list to the name of a particular person by typing their name in the search box at the top of the window.

Assign a person: Select them in the list and then click To, Cc, or Bcc as desired. Or simply type their names or email addresses in those boxes.

Create a new contact: Click New Contact. They will be added to the To list.

File: Email on a file will be accessible by all users assigned to that file.
3
Send or Save
Click Send to send and close the message, or Save and Close to just save it as a Draft.