On either launching AbacusLaw, or attempting to activate it from the Register screen, you may sometimes see one of these two following errors:
"AAUS Server Error – 14
Communication Deadline
example :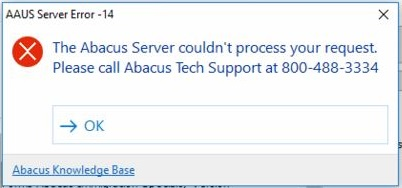 The Abacus Server couldn't process your request. Please call Abacus Tech Support at 800-726-3339"
This error typically occurs when the Abacus registration and update server is unavailable temporarily. It is often resolved automatically within 15 minutes to an hour. It rarely requires any action on your part to resolve.
While the issue is being worked on, your users can simply click OK on the error message, and continue using the software without hindrance.