An error that looks like one of the following errors commonly occurs after updating AbacusLaw by CARET from v23.16 or earlier to the latest version:
"Abacus Matters table not available!
Error: ADSCDX/7008 (DOS Error # 32)
Called from: DBUSEAREA (0) in
Description: Open error
Filename: C:\Abacus\v23\data01\law3
Arguments:
Error 7008: The specified table, memo file, or index file was unable to be opened. C:\Abacus\v23\data01\law3.dbf"
---
"Error ADSCDX/7041 Open error: C:\ABACUS\v23\data01\lawusers"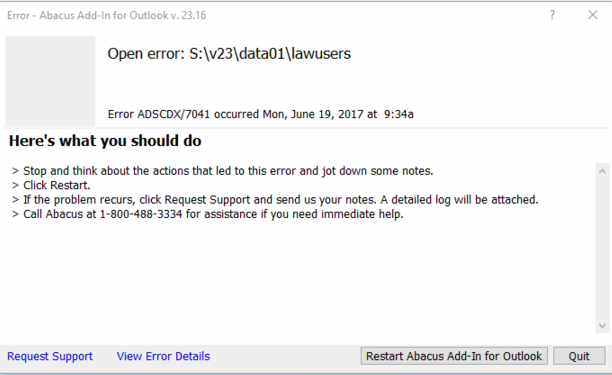 ---
Uninstalling and reinstalling the add-in usually resolves these issues:
Navigate to

Programs & Features in your Windows Control Panel.





Highlight

Abacus Outlook Add-in

, and click

Uninstall

. If you see an entry called

Abacus Outlook Addin (no dash) as well, do the same for this entry.




Relaunch

AbacusLaw by CARET

to reinstall the add-in (you should see the installer appear before your login window). If relaunching

AbacusLaw by CARET

does not run the add-in installer, navigate to File > Synchronize > Outlook Sync > Setup

, then click

Outlook Add-in Setup

, and click

Enable the Add-in

.
If the steps above do not resolve the issue please follow the steps in this guide to clean reinstall the Outlook add-in.