When changing the Notification Center Settings and setting client reminders, you can click the Advanced button to set advanced client reminder notification settings.
When you click the Advanced button, The Notification Center Settings – Client Reminders window appears.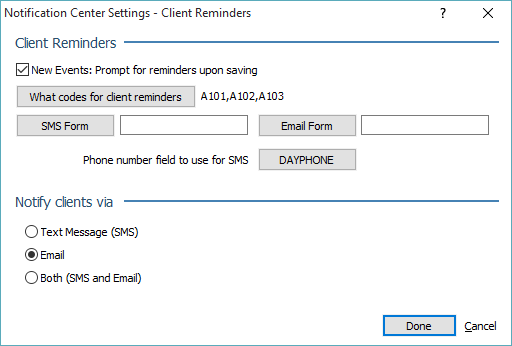 Change the settings on this window and click Done to save your changes.
The following describes the settings in the window.
Client Reminders
New Events

: Prompt for reminders upon saving: Check if you want to be prompted to send client reminders for new events after they are saved.

What codes for client reminders

: Client reminders will only be sent for events with selected What codes. Click this button to open the Valid WHAT Entries window. Check the What codes for events that will trigger client reminders. Click Done to save your changes.

SMS Form, Email Form

: Leave blank unless you want to change the form text that sends by default.

Phone number field to use for SMS

: Select the field to use for client reminders sent via SMS. REMINDER: SMS is only available for client reminders with a Twilio account
Notify clients via
Select the method for notifying clients.