The above error indicates that Abacus Accounting was not able to find a configuration file (bolink.ini) that is necessary for its functionality.
Verify Start in Path on Shortcut
Typically, this error occurs because the Start in path on the Abacus Accounting shortcut does not point to the correct folder. To check this:
Right-click on the Abacus Accounting shortcut on your desktop, and click

Properties

Check the

Start in

path. It should point to the Abacus Accounting data directory inside the Abacus folder (typically

Abacus\vXX\data01\Accounting

).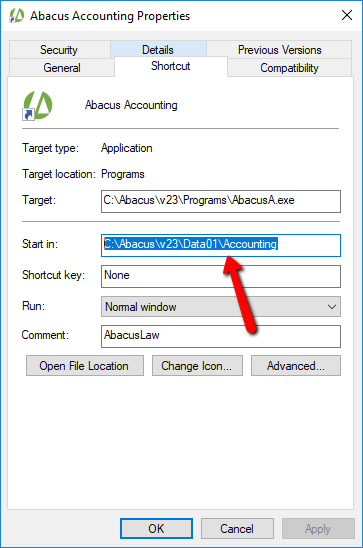 ---
Verify Accounting Database Exists
If the directory is correct, first, check if the directory contains an Abacus Accounting database. It should be filled with a large number of database files with the extensions ADT, ADM, and ADI. If it is not, then no Abacus Accounting database exists. This should only be an issue if you have not used Abacus Accounting before.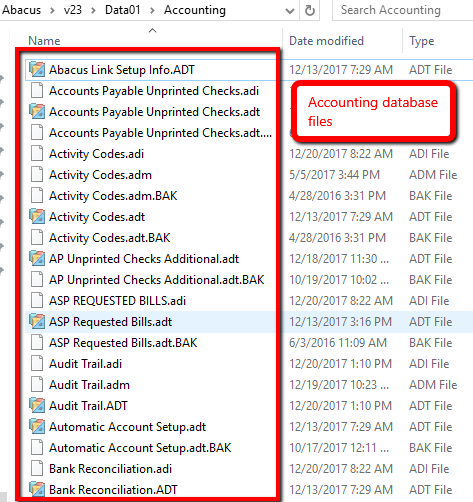 To create a new Abacus Accounting database:
Open AbacusLaw by CARET.

Navigate to

Tools > Accounting Setup > Setup

.

It will ask you to confirm creating a new database, and walk you through first-time setup.
---
Verify bolink.ini Exists
If the Accounting database exists in the directory, verify that a bolink.ini file exists in the directory.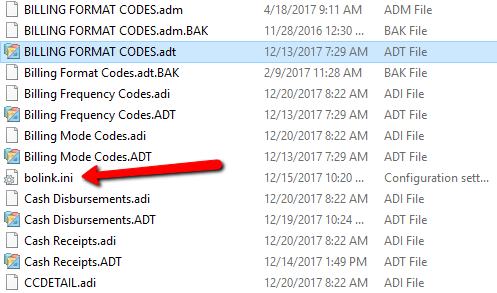 If it does not, follow the instructions under the Verify Accounting Database Exists section above. Abacus Accounting will detect that the database files already exist and not actually create a new database. However, it will re-create the bolink.ini