This article covers the following 2 error messages:
"Error 3343 when printing invoices" & "Error in printing invoice for matter#"
After changes by the latest Windows Security Updates made changes to a windows engine that Abacus Accounting uses to transfer the data from the software into the invoices you will now receive an error similar to the images below: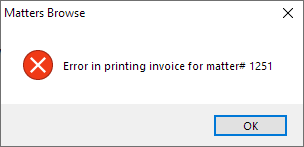 How to fix if you have an Active Subscription:
For our clients in the Abacus Private Cloud (APC): Schedule an AbacusLaw by CARET update here

.

For our clients On Premise: Follow the steps in this article to update your

AbacusLaw by CARET

to the newest version.
How to fix if you are a Legacy Client on a version earlier than 23.08:
You or your IT will need to roll back or uninstall any Windows Security Update listed below. These updates were pushed out on January 8th, 2019 and may be installed on both server and workstations.

Win 7 : KB4480970

Win 8.1 : KB4480963

Win 10 (Build 1709) : KB4480978

Win 10 (Build 1803) : KB4480966

Win 10 (Build 1809) : KB4480116

Win Server 2008 : KB4480970

Win Server 2012 : KB4480975

Win Server 2019 : KB4480966
On Windows 10 and Server 2016/2019 the update can only be rolled back temporarily, and Windows Update will eventually force reinstall. Causing the error to reoccur. Updating the AbacusLaw by CARET Software is necessary for a permanent fix.