The Notification Center controls Abacus user communications. It helps you manage:
When and what notifications are sent out

Email settings for the server

Text messaging settings
Notification Center settings are maintained on the Notification Center Settings window. To open the window, click Set up email and SMS Alerts on the System Options window. Make changes on this window and then click Done to save your changes.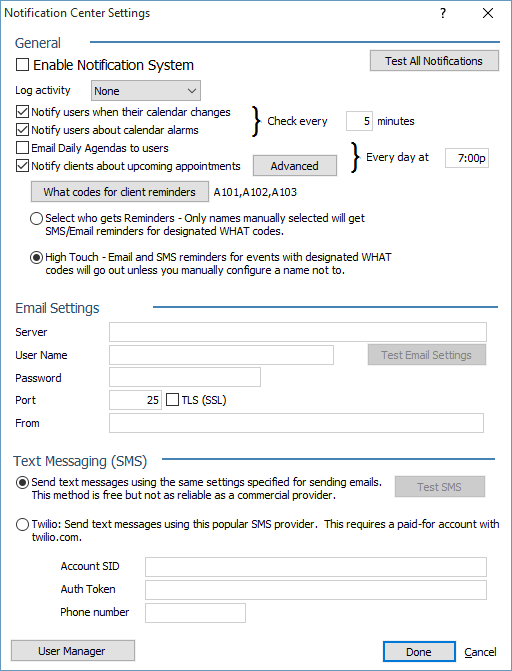 The following describes the settings on the window.
General
Enable Notification System

: Check to enable the notification system.

Log activity

: Select how you want log activity to be recorded (Normal or With debug info). If you do not want log activity to be recorded, select None.

Notify users when their calendar changes and Notify users about calendar alarms

: Check if you want AbacusLaw users notified when changes are made to recent calendar items. You also have the option to set the interval Abacus checks for new events. Note that this setting should not be configured less than every 5 minutes.

Email Daily Agendas to users

: Check to have your calendar for the next day emailed to you. Enter the designated time in the Every day at box provided.

Notify clients about upcoming appointments

: Check to send notifications via SMS/email as configured for the event's linked name. These notifications only go out once per day and remind for the following day at the designated time. Enter the designated time in the Every day at box provided.

What codes for client reminders

: If you selected to notify clients, reminders will only be sent for events with selected What codes. Click this button to open the Valid WHAT Entries window. Check the What codes for events that will trigger client reminders. Click Done to save your changes.

Select who gets Reminders

and

High Touch

: You can select reminders to go out to only names that you specifically designate (Select Reminders) or you can have reminders sent to every name by default, and not send only if you manually set the name not to (High Touch).
Email Settings
In order for AbacusLaw users to get email notifications, an administrative sender must be configured. This is the account that the email reminders will come from. You must set up the server name, user name, password and from information for your account:
If you use Gmail, Yahoo, or Hotmail (now Outlook) smtp, refer to the Email Settings Guide for help in setting up your email.
Generally, if your email account is encrypted the port will be 465; otherwise, it is generally port 25. Click Test Email Settings to test sending an email to your current email address and to report issues.
Text Messaging (SMS)
In order for AbacusLaw users to get SMS alerts, the SMS configuration must be filled out. You can select to have staff texts sent via email to the provider specified in the User Manager. Note that you cannot have client texts sent that way, as you would have to identify the phone provider for every single name. Texts can also be sent via a Twilio account, but you must register and pay for that account. Click Test SMS to test if the account has been properly configured.
User Manager
Notification settings need to be managed for each user before he/she can receive them. Click User Manager to open the User Manager window where you can set notifications for a selected user.
Test All Notifications
Click Test All Notifications to see what kind of notifications would be sent if the system, as currently configured, was triggered.