Can't Delete a File
---
INTRODUCTION:
Sometimes, when you go to delete a file from within Windows Explorer, you get a message saying you can't because it is in use or is open: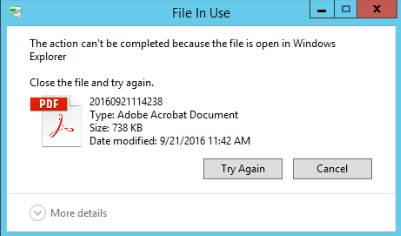 This is a known issue with Microsoft Windows, and especially with PDF files. The reason for this is that, when you have Preview Pane turned on, Windows treats the file selected and being previewed as if it really is open. To delete files, you simply need to turn Preview Pane off and then delete the file.1
APPLIES TO:
APC Clients using a Windows operating system
REQUIREMENTS:
Windows 7, 8, 8.1, or 10
PROCEDURE:
Open Windows Explorer by just opening any folder on your computer.
In the upper-left, click View. Here you can toggle Preview Pane on and off.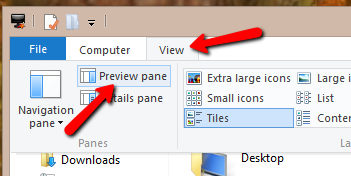 Click Preview Pane to turn it off and then delete the file.
You can turn Preview Pane back on if you like using it; just remember that you will have to follow this process any time you get the error message above with regard to deleting a file.