INTRODUCTION:
With all the applications running on the server it can be burdensome to search for what you are looking for. For those applications that you use frequently, Windows has a feature that allows you to PIN a program to the Taskbar for quick access.
APPLIES TO:
All users that would like to pin a shortcut to their taskbar
REQUIREMENTS:
This feature is only available for Staff users in the cloud. Collaborative users will not be able to manipulate the Taskbar.
PROCEDURE:
Select the program that you would like to pin.

Right-click on the program. (In this sample, right-click on AbacusLaw).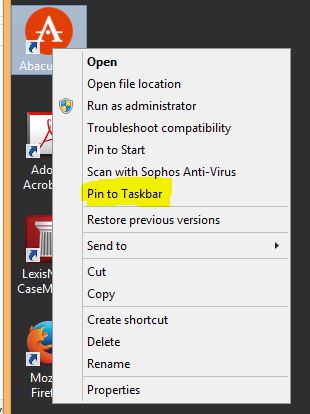 The program is now pinned to the taskbar.

You can also "Search" for a program, right-click on the program and select "Pin to Taskbar".