INTRODUCTION:
This document describes what to do if an Entry Point Not Found error occurs when opening QuickBooks (any version) or logging into a server.
APPLIES TO:
Users experiencing the error "Fix for the Entry Point Not Found Error"
Figure 1. Entry Point Not Found Error Message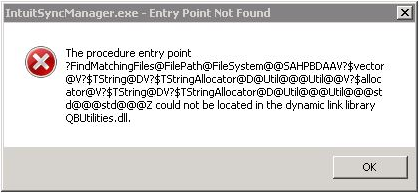 PROCEDURE:
1. This error has been known to generate when there are multiple copies of QuickBooks open. If this is the case, try closing all versions of QuickBooks other than the one that is being used for the task with Sync Manager. Then try to sync again.