INTRODUCTION:
When you try to resize a window or move a window from one monitor to a higher-resolution monitor and it disappears, what is happening is the window is getting "caught between screens." This can be the result of using a high screen resolution on a small screen.
APPLIES TO:
APC Clients using Remote Desktop to connect to the server.
PROCEDURE:
Click the application icon on the Windows Taskbar.
Press Alt + Spacebar to get the View menu open.
Click Maximize.
Right-click on the Windows Taskbar and choose from Cascade windows, Show windows side by side, or Show windows stacked.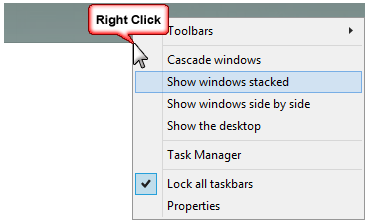 If you like your windows arranged in specific positions on the desktop, you will want to close all other windows before using these commands.