INTRODUCTION:
This article will go over how to stop duplex or two-sided printing on a Mac computer.
APPLIES TO:
APC Clients using a Mac OS device to connect their APC environment.
REQUIREMENTS:
Mac OS X 10.7.5 or higher operating system
PROCEDURE:
You can change the default via CUPS, which is the core printing system of OS X. This will require the user's Apple administrator credentials.
Open Safari and enter the following URL: http://localhost:631

Access to the CUPS page may be blocked. To enable it, open Terminal and type "sudo cupsctl WebInterface=yes" (without the quotation marks). Enter the Apple admin password when prompted and then refresh the Safari view.

With the CUPS web page open, select the

Printers

tab and then select the printer you want to modify.

From the

Administration

drop menu, change to

Set Default Options

.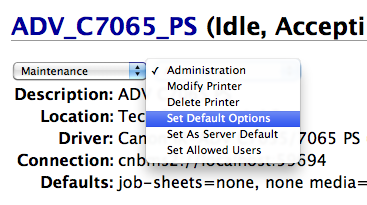 On the subsequent page, scroll down until you see the Print Style menu. Change it from 2 Sided to 1 Sided and then scroll down the page and click the Set Default Options button.

In the subsequent prompt, enter the account name and password that has been set as the admin for this Mac and then click Log In.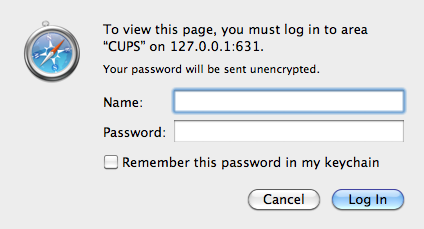 You will then see another page stating that the information change is completed. You can verify this by selecting to print this page from Safari. With the correct printer selected, change to the relevant menu to ensure your modification has worked.