When adding a new billable work code in OfficeTools, you must add it to any staff that will be tracking time with it. If any time cards have already been created using the new work code prior to assigning a rate per staff, they will need to be updated in order for them to be billable.
Even though the work code is marked as billable and has a standard rate, each staff must have it as a selected time card with a standard rate as well.
1
Go to Setup> Billing> Billing Rates.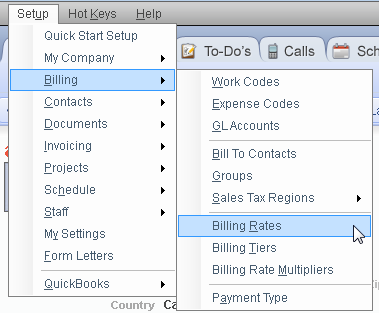 Because rates are associated on a staff by staff, code by code basis, you will need to make sure that you choose the appropriate staff member in the list on the left hand side. All information displaying in the screen at that time will be related to just that staff.
2
Associate the Billing Rate to the Work Code.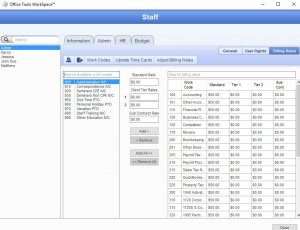 To associate a billable rate to a specific code, select it in the middle list, by highlighting it, populate the desired rate into the Standard Rate field, and click Add. This will take the selected code, attach the billable rate, and move it to the right hand list. Please note you will only move over billable codes.
To update any previously created time cards with the newly adjusted codes, simply select Update Time Cards.

DO NOT move over non-billable codes to the list on the right as that will effectively make them billable at the rate that displays in the standard column, even $0.00.
Close the form and you are now ready to track billable time with your new work codes.