Users can place documents that are stored in the Document Management System into review for themselves or other staff using the Document Reviews feature. The feature allows users to keep a record of documents that have been reviewed or need to be reviewed.
With the Document Reviews feature. users can track documents in need of review and place reminders on their or another staff member's activity list.
1. Go to the Documents tab and click the Review button.

The documents review feature is found through the Documents tab toolbar by first selecting the document to be reviewed and then selecting the Review button. If reviews have not been created for the selected document beforehand, a "Create a New Document Review" window will open.
2. Populate the Document Review details.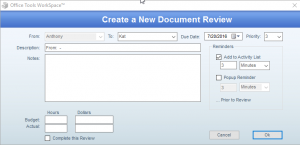 Document reviews must be assigned to a staff member through the "To:" dropdown field. The option to add the document review to the assigned staff members' activity list within a certain period before the due date of the review can be enabled by checking the "Add to Activity List" Reminders option and inputting the time period in the fields below the option.
Please note: For documents in which reviews already exist, the Review button text will be red and when selected will open the "Documents Review" window.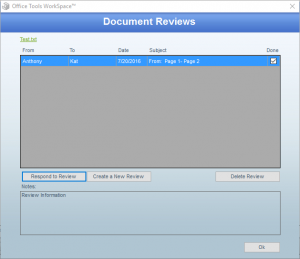 Staff members have the option of responding to a review and completing the review as well as creating new reviews for the document.