The Bill-to-Contacts function is used when billings for multiple entities are to be billed to one contact. The following user guide gives an example of when to use Bill-to-Contacts and how to set up the function.
Bill-to-Contacts can be particularly useful for entities in which an entity is to be billed for not only itself but also other entities in OfficeTools. For example, if the owner of ABC Company, John Smith who is also an individual entity in OfficeTools, wants his individual return to be billed to ABC Company, then Bill To Contacts should be used. The function would redirect the WIP associated to John Smith's individual return to ABC Company's WIP.
1. Set up a Billing Group: go to Setup> Billing> Bill To Contacts
2. From the Billing Group drop-down box, select the contact that will receive all the billings from itself and the other entities.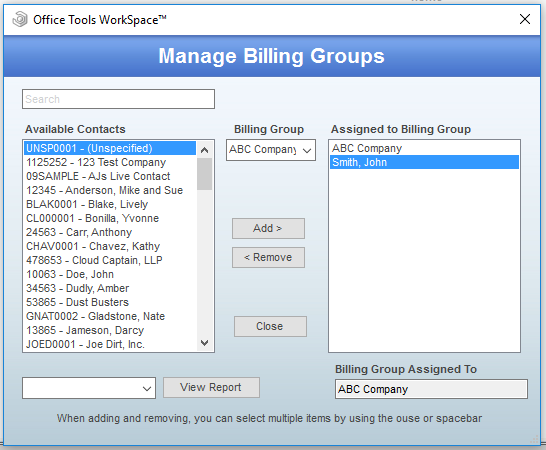 3. Select the contacts from the left side list and use the Add button to move over entities into the Billing Group. Close to save.
Please note: Any entity whose billings are being redirected will display "See Bill to Contact '[Billing Group]' for Billable Time" on the Time view of the Billing tab.

In the Time view of the Billing tab for the contact selected in the Billing Group drop-down box, you will see the WIP for all the entities in the Billing Group.