Once you have created work codes you will need to make sure that, for the codes that are billable, you associate rates to them for each staff member. OfficeTools allows for every staff member to have a unique billable rate for every work code that exists in the system.
1. Go to Setup> Billing> Billing Rates
This will open a window that shows all staff on the left, all the codes in the middle, and all the rates on the right.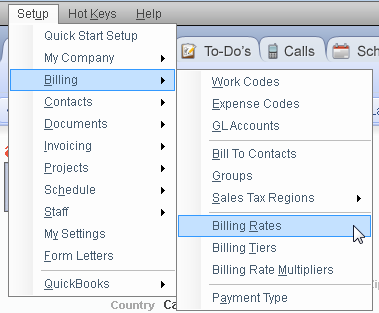 All information displaying in the window on the right-side will be related to just that staff highlighted on the left.
2. Highlight the Staff name, select the work code(s), populate the standard rate, then click Add.
This will take the selected code, attach the billable rate, and move it to the right-hand list.
Please note: DO NOT move over non-billable codes to the list on the right as that will effectively make them billable at the rate that displays in the standard column, even if it is $0.00.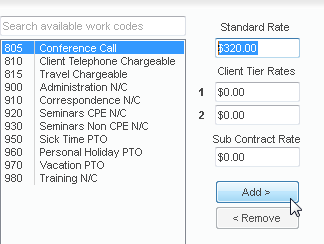 If staff members have identical rates you can also copy the rates of one staff to other staff. In the toolbar, you will find a Copy to button second from the left. Click that and choose the staff you would like to copy the rates to, click Add, and then Close. The billable rates will be applied to all staff selected.
Once you have populated the billable rates for each staff, you are ready to track billable time in OfficeTools.