---
IMPORTANT: Do not Reset the Link and change this setting after initialization because that would cause the creation of duplicate records in both systems.
WARNING: We highly recommend that you reset the Link only with the assistance of Technical Support representative. The Link should be reset only under the following conditions:
• after recovering your Amicus database or QuickBooks database, or
• after restoring a backup in Amicus or QuickBooks
To reset the Link, perform the following steps:
1 IMPORTANT: Back up the QuickBooks database and the Amicus database before resetting the Link.
2 Ensure that all users are logged out of both Amicus Attorney and QuickBooks.
3 Ensure that QuickBooks is running in Single-User Mode, and you are logged in as the QuickBooks Administrator.
4 Choose Firm Settings on the navigation list in the control panel the Office module. The Firm Settings view appears.
5 Choose Time > Accounting in the view. The Accounting System view of the Firm Settings dialog appears.
6 Click Configure to run the Link Configuration wizard.
7 Click Step 1 in the Welcome dialog of the Link Configuration wizard. The Company File dialog appears.
8 Select the Yes option in the Reset Link section at the bottom of the dialog, and then click Finish. The Link is reset.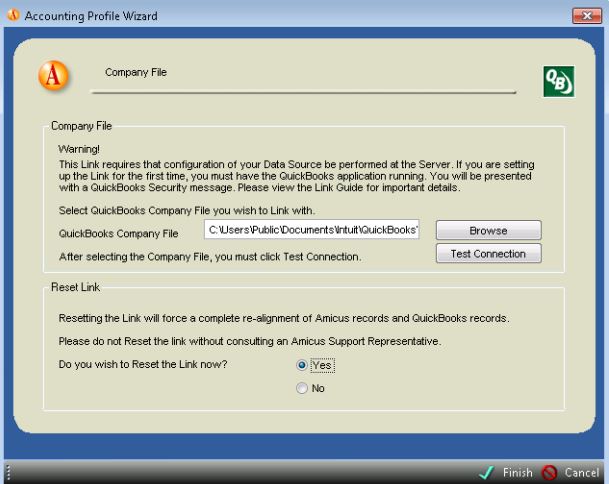 9 After resetting the Link, you will need to repeat Steps 2 to 5 in the wizard and initialize the Link again in order to resume sharing data with QuickBooks.
10 You can now set QuickBooks to run in Multi-User Mode if desired.