---
Pleas Note. This is an administrative function. If you do not see the Administration option when in the Office module please contact your firm administrator.
Setup
1
If your firm is not in evaluation mode, ensure that your Amicus license includes Amicus Anywhere. In the User Management view of the Office module, check that Amicus Anywhere is listed as a component at bottom left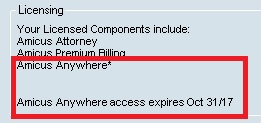 2
Ensure that at least one Firm Member has been enabled for Amicus Anywhere. That automatically registers your firm for Amicus cloud-based functions.

3
In Firm Settings under Client portal choose Portal Setup

4
Enable the client portal features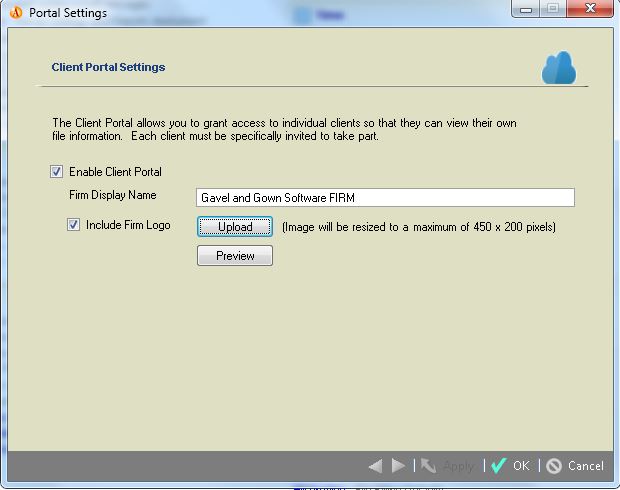 Specify your firm's name and, optionally, upload your firm's logo for display to Clients in the Portal setup wizard and Home Page.
(The logo will be automatically downsized to fit, if necessary.)
By default, Firm Members are not assigned to a specific Security Profile and have rights to invite Clients and share items to the Portal. If a Firm Member is assigned a Security Profile and requires these privileges, ensure that the "Client Portal" option in their Security Profile (under the Office > Action section) is selected.
Ensure that your Amicus Application Server has 24/7 access to the Internet so that Clients can set up and access their Client Portal accounts.
Disabling Client Portal for the firm
Clearing the Enable Client Portal option in Firm Settings > Portal Setup will disable Portal access for all Clients, and Portal features for all Firm Members.
Data is transmitted securely via the cloud, between the firm's Amicus Server and the Client's browser—it is not stored in the cloud or on the computer where their browser is running. These transmissions utilize bank-grade 256-bit encryption. If a Client chooses to view a document, it is downloaded to their browser's temporary downloads folder to be opened in its native application (e.g. Word). Documents are encrypted during transmission.
The Client Portal uses the Microsoft Azure cloud platform. For more security information, see Azure Trust Center