Abacus Accounting supports printing both Operating and Trust checks. All check writers print one check to a page (letter size) each check having three parts – the check and two stubs.
The check options described below can be set in File > Setup > Company Preferences > Check Types.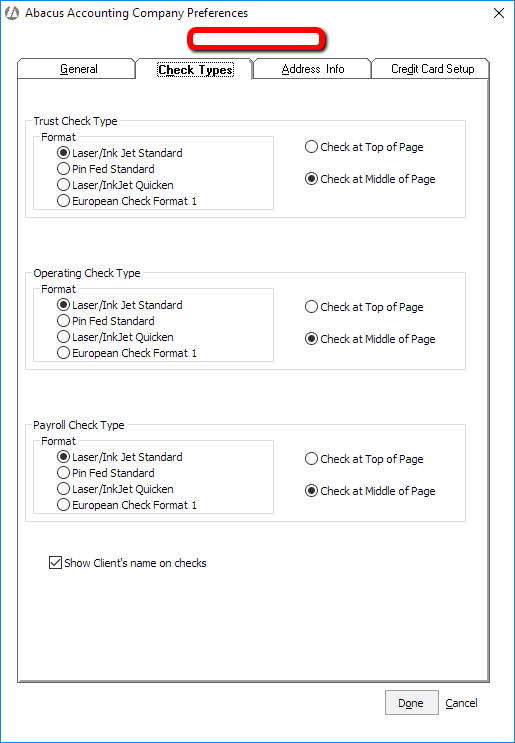 Style Options
Check at Top of Page

– Check prints at top with 2 bottom stubs.

Check at Middle of Page

– Check prints in the middle with a stub on top and one below.
Format Options
Pin Fed Standard and European Check Format 1 are no longer used. Payroll Check Typesettings are also no longer used, as payroll check printing is no longer available through Abacus Accounting.
Laser/Inkjet Standard

– The pay line, date, and amount appear on the same line at the top of the check. The payee's name only appears in the payee address.

Show Client's name on checks

– This will show the name of the client attached to the matter inside the Memo field when printing Trust checks. This can either be disabled globally here, or on a check-by-check basis on the check printing screen.

Laser/Inkjet Quicken

– Also known as the QuickBooks check format. The date appears in the top right, and the name of the payee and the amount appear on the same line below the date. The pay line appears below that, followed by the address lines.

Abacus Accounting allows for multiple style and format options for each type of check. It is a good safeguard to have different style options set for Operating and Trust – if you inadvertently print an Operating check on a Trust check, the face of the check will not print in the correct location.
Check Offset
When printing the check, you can also specify a check offset if needed (in-case it is not aligning with the check in your printer, even after selecting the correct check format).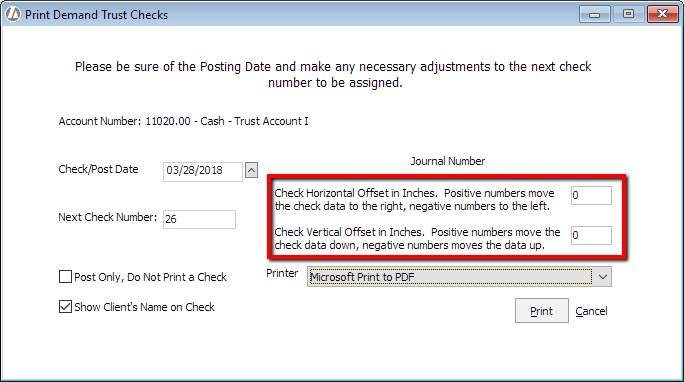 Order Checks
You can order checks in compatible formats here.