After the latest Windows 10 update to version 1903, opening AbacusLaw will prompt: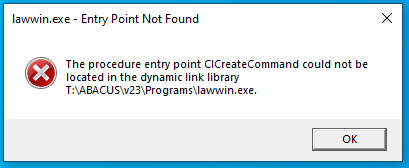 How to fix if you have an Active Subscription:
You will need to update AbacusLaw to version 23.29.13 or newer. You can choose one of the following choices:
Contact the support team to have us remote into the server and update AbacusLaw.

Follow the steps in this article to update your AbacusLaw to the newest version.
How to fix if you are a Legacy Client.
You will need to roll back windows to the previous build before the Windows 10 Core Update from May 2019.
On Windows 10 and Server 2016/2019 the update can only be rolled back temporarily, and Windows Update will eventually force reinstall. Causing the error to reoccur. Updating the Abacus Software is necessary for a permanent fix.