There is a feature in AbacusLaw that allows users to send email reminders.
It is configured under File > Setup > System Options > Set up Email and SMS Alerts.
In the middle of the set-up screen, it asks for email server settings.
Use the following settings if you are an Abacus Private Cloud user with Office 365 subscriptions purchased through Abacus (The password is the user's Office 365 password):
If you are using Office 365, or most service provided through Abacus Private Cloud, enter the following settings:
Server

: smtp.office365.com

User Name

: Your email address

Password

: Your email password

Port

: 587

TLS (SSL)

:

This must be checked

.

From

: Your firm email address (must be a valid email address)
Configure for Direct Send
If AbacusLaw fails to connect using the above settings, try changing Port to 25, and Server to your MX endpoint address. You can find your MX endpoint address by visiting this website: mxtoolbox.com, then entering your email domain (the part after the at symbol, e.g. abacusnext.com from jsmith@abacusnext.com). The Hostname returned on that website is the address that you should enter.
The MX endpoint address can only be used for emails sent to the same domain as the sending email address, and therefore should only be used with staff notifications (if all members of staff use email addresses on the same domain, e.g. the domain of the firm's website). If you need to use it with client notifications, contact APC Support for assistance getting a connector set up that will allow sending to outside domains.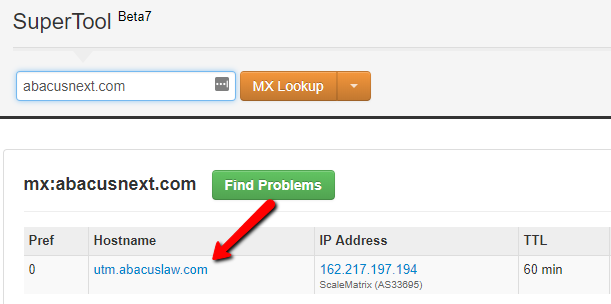 If you use another company for email, that company will be able to provide the proper settings.