INTRODUCTION:
As part of its filtering criteria, the Outlook Junk Email Filter checks message senders against lists of email addresses and Internet domains designated either as safe or to be blocked. You can customize the filter to block or allow senders or different message types.

APPLIES TO:
All Office 365 Outlook users.

REQUIREMENTS:
Microsoft account and/or organizational account is required for licensing and to access services.

E-mail account setup in Outlook must be in Cached Exchange Mode.

PROCEDURE:
1. Block Individual Sender
To block an individual sender Right-click a message from the sender you want to block, and then click Junk > Block Sender. The blocked person can still send you mail, but if anything from his or her email address makes it to your email account, it's immediately moved to the Junk Email folder.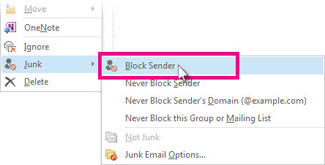 2. Block Domain Name
To block an entire domain on the Home tab of Outlook, in the Deleted group, click Junk, and then click Junk E-mail Options.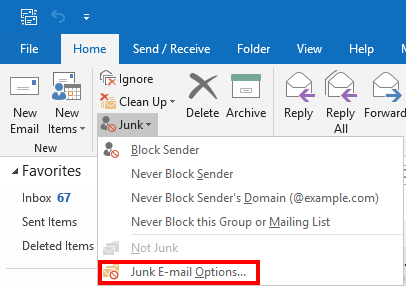 On the Blocked Senders tab, click Add. In the Enter an e-mail address or Internet domain name to be added to the list box, enter the name or address that you want to add and click OK.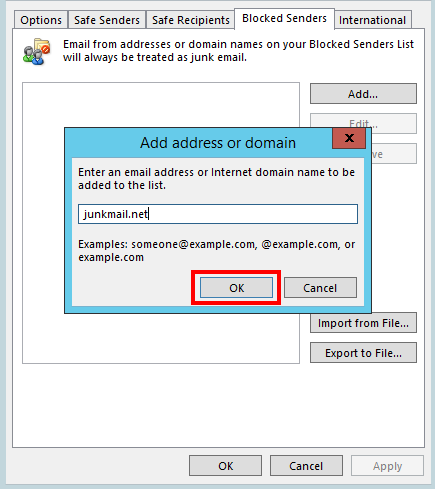 To remove an address from the Blocked Senders list, select the name you want to unblock and click Remove.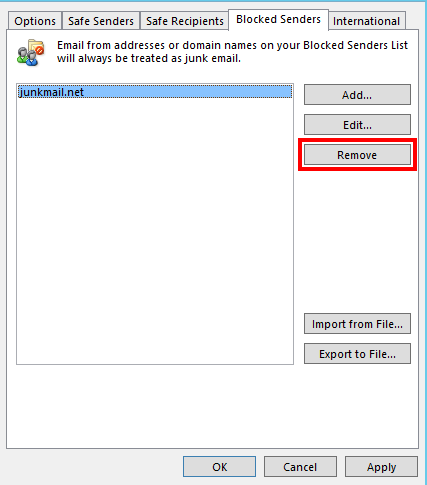 3. Add names to the Safe Senders or Safe Recipients List
By adding email addresses and domain names that you trust to the Safe Senders List, you instruct Outlook that messages from those sources are never to be considered as junk. If you belong to mailing lists or distribution lists, you can add these names to your Safe Recipients List.

To add to the safelists Right-click a message from the sender you want to mark safe, and then click Junk > Never Block Sender. You can also select Never Block Sender's Domain, or Never Block this Group or Mailing List. Marking a sender as safe WILL NOT remove them from the blocklists. Use the removal procedure from step 2 for any senders or domains marked safe.