Depending on your Outlook settings, you may experience a popup when you choose to send an email from OfficeTools. The popup will prompt you to allow Outlook the access to use/send emails.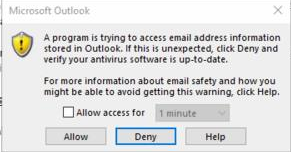 Please note, this is not an OfficeTools program error. The permissions box you are getting is due to your anti-virus.
To view the current status of your programmatic access, you will need to open Outlook and navigate to File > Options > Trust Center > Trust Center Settings > Programmatic Access.

We would encourage having your local IT adjust your anti-virus settings to allow access.