The error stating "Sync Failed: Due to the limitations with Lacerte's updated SDK, OfficeTools is unable to create new clients in Lacerte." occurs when trying to sync an unlinked contact's information to Lacerte.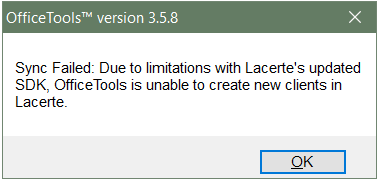 If the contact already exists in Lacerte, you will want to follow the guide below on how to match the contacts together.
How to Syncing Client Information from Lacerte
If this is a brand new contact that has not been made in Lacerte, you will first want to create the contact in Lacerte, and then follow the guide above to link them together.
Note: This error is due to the limitation of Lacerte's SDK that no longer allows OfficeTools to push new clients into Lacerte. This feature is no longer supported by Lacerte and they will not make an exception for us. The integration will sync over contact changes once the client is imported into OfficeTools from Lacerte. Therefore, you will now have to create New contacts in Lacerte first and then import them into OfficeTools. Below you will find alternate solutions to equip your practice for a successful tax season.
Solution 1:
Use the match/sync tool to link the Lacerte contact to an existing OfficeTools contact or to Add a New contact to OfficeTools.
Go to Contacts> Import/Export Contacts> Lacerte Sync> Match Contacts, in this window you can do a few things.
Use the "Link Contacts" button to link an OfficeTools and Lacerte client together, data will not update in either program until a change is made in OfficeTools.
Use the "Add Contact" button to import a New Lacerte client to OfficeTools.
Solution 2:
Use the Import/Export window to import only "New" Lacerte Clients.
This option involves creating the contact in Lacerte first, then importing it into OfficeTools WorkSpace. Proceed to create the client in Lacerte, then use the import feature which can be found by going to the Top Menu and clicking on [Contacts -> Import/Export Contacts -> Lacerte Sync -> Import/Export Contacts].
The Lacerte Integration Tool window will appear. You will need to set three filters.
Set the client filter to "New".
Select an Entity Type.
Set where the data is coming from by choosing the option "Import Lacerte".
Now push the button "Get Contacts." Choose the newly created contact and select "Sync Contacts." This may seem like a lot of steps at first but after a few times of doing it will feel more natural.
Solution 3:
Create a lightweight client in Lacerte, then export data from OfficeTools to Lacerte.
Create the Client in Lacerte with minimal contact data. Import it into OfficeTools using one of the above methods and then enter in all your client's contact data. Lastly, use the "Sync Current Contact to Lacerte" feature located under Contacts> Import/Export Contacts> Lacerte Sync> Sync Current Contact to Lacerte.