The error stating "CRRuntime_x32 could not be installed." occurs during the installation process when the installer is unable to properly download Crystal Reports. This is usually due to permissions or the computer being unable to communicate with the web to fetch this item from the internet.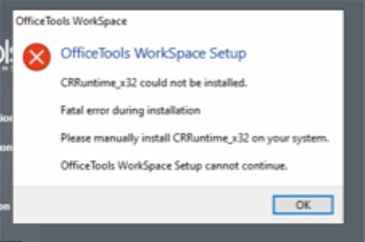 In order to resolve the issue please follow the steps below.
Select the OK button in the error window.
Cancel out of the installer by selecting the Cancel button.
Download Crystal Reports installer: here.
Unzip the Download by right-clicking and selecting Extract All.

Open the CRRuntime_x32 folder and double-click on the CRRuntime_x32bit_13_0_23.msi.

Follow the prompts on the SAP Crystal Reports installer to install.
Select Next, after it computes if you have enough storage to install.

Accept the licensing agreement and select Next.

Select Next.

Wait for the install to complete.

Select Finish.

After successfully installing SAP Crystal Reports, run the OfficeTools by CARET installer once more.