Whether your clients have neglected to bring in specific pieces of information required for their engagement or the project simply needs more information to be completed, you can record these Missing Info items on the Projects tab. But, they will first require setup prior to use.
Missing information is an area of the Projects function where you can track items that are needed to complete the work you are doing. For instance, if I am working on a bookkeeping project and need the client's June Bank Statement, I could track that item there. Once the item is listed on the project form, you have the ability to email that information to the client.
Before using the Missing information area of the Projects screen, you first need to establish a list of Items and a list of Issuers.
1. Setup the list of Missing Item Issuers. Go to: Setup> Projects> Missing Info Issuers.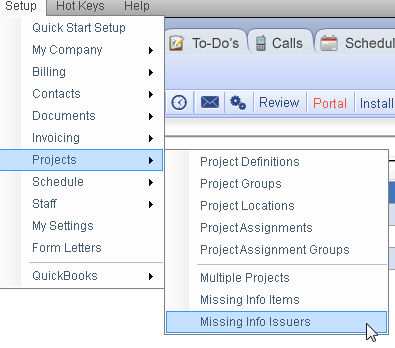 Missing Info Issuers are where those items will come from: The Bank, the Client, Employer…etc. Once you click on the issuers, you will see a window where you can add, edit, delete, sort and print.
2. Set up the list of Missing Items. Go to Setup> Projects> Missing Info Items.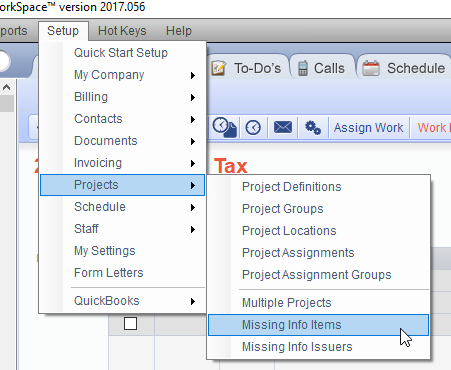 Missing info Items are the items themselves: Bank Statements, W-2, 8879…etc.
3. Add Missing information on the Projects tab in edit mode.

Click on the Projects tab and enter edit mode. You can then click on the line for missing information and select an item and issuer.
Though the Item and Issuer are based on pre-populated drop-down menus, you can free type into the Description. This field is for a note or additional information on the Item. For instance, the Item may be W-2, the Issuer is Employer, and the Description could be Previous Job's W-2.
When you start adding items to the projects form, a number of items will appear below the missing items area in red. To mark the items as received, simply put the project in edit mode and select the RCVD checkbox. This will populate with the staff who checked it off, as well as the date.
You also have the ability to email the missing information over to the client. OfficeTools will have email templates automatically populated with Merge fields for the missing information email, but you can adjust those. To edit the Email, go to: Setup> My company> Information & Settings> Email Templates> Project: Missing Info.
To adjust the form letter, click into the template and start typing or removing text or Merge fields. Once the email template looks great, you can send it by going back to the Projects screen and clicking on the email icon. The email will go to the main email address on file.