---
First Install the Amicus Addin
1
Close all Microsoft Office Programs and close Amicus
2
Open File Explorer\My Computer and navigate to C:\Amicus\Amicus Attorney Premium Workstation\Install\OfficeAddin

3
Right click on the Setup.exe and choose to Run As Administrator
If you receive a prompt to type in an Administrator user name and password please ask your IT department to grant you local administrative rights, install the toolbar and then revoke the rights. Amicus Technical support will not be able to do this for you.
4
If the tasks toolbar is installed please uninstall it
5
Re-run the setup.exe again as Administrator to reinstall the tasks toolbar
6
In Amicus access Preferences – Links – Email, click Basics – Test Connection
7
Use the arrow to navigate to the next screen and select to Enable to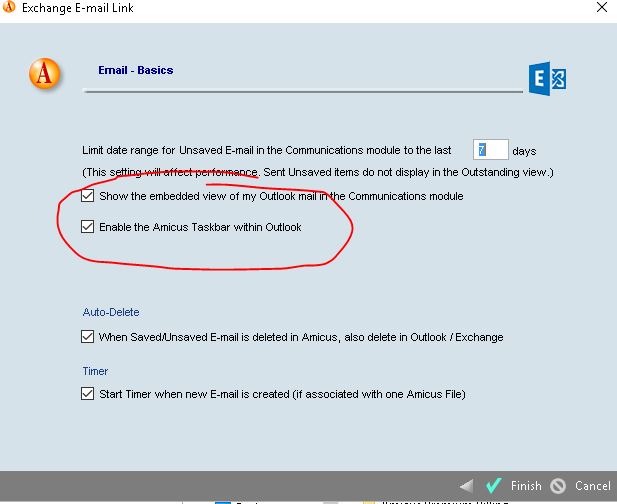 8
Close Amicus and Open Outlook and then Amicus and the tasks toolbar will be available.

Please note that this toolbar will be active only in your default Outlook Inbox and the associated data file.