INTRODUCTION:
Microsoft Office (Office 365) in your Abacus Private Cloud (APC) environment utilizes something called shared computer activation. Most people are familiar with activating/registering Office using a Product Key. This method applies to environments where each user has their own copy of Office on their own computer. Shared computer activation, on the other hand, means that each user activates Office via their Office 365 credentials, not a license key. This comes into play in environments where one computer is accessed remotely by multiple users. The most common shared computer activation scenario is to deploy Office 365 to shared computers by using Remote Desktop Services (RDS, aka RDP). By using RDS, multiple users can each run Office 365 programs (e.g., Word or Excel) at the same time on the remote computer. This is exactly how your APC environment works.
APPLIES TO:
APC Clients using MS Office
REQUIREMENTS:
PROCEDURE OPTIONS
The first time you launch an Office program (Outlook, Word, etc.) within your APC environment, you may be prompted to activate or register your copy of Office.
Note: You may also be prompted, from time to time, to do so again due to Microsoft's policies intended to keep your Office accounts secure.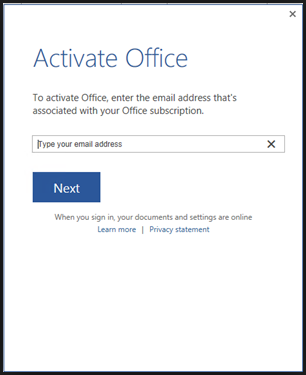 Enter your username (almost always your Office

email address

) and

password

.

Close all Office programs.
Launch Excel, enter your email address and password and follow the prompts to finish activation.

Once done, you can launch Outlook, Word, etc., as desired.
If you are having difficulty, first verify that you are using the correct credentials by signing into portal.office.com in a Web browser using your Office 365 credentials. If the credentials are correct, try activating in Excel first.