---
Amicus Anywhere is an Internet based application which connects directly back to your Amicus server. The connection to Amicus Anywhere is dependent upon HTTP traffic allowed through your server. Amicus Anywhere identifies the internal users based upon the unique MAC address of the server. As such the server needs to be On for any remote Internet connection to be made.
*Amicus Anywhere is only available for Subscription customers who have paid for the Anywhere add-on. Applies only to V20 as of April 30, 2018.
1
Make sure that you see the Amicus Anywhere column in User Management. If you do not see the column please contact Support at 1-800-472-2289

2
Make sure that the user with the access problem has the check box enabled and that their email address is specified in their User profile.
3
In User Management select Update License on the bottom right. You will receive a message that your licenses have been activated. You should see the Anywhere column in User Management and Anywhere as part of your subscription on the bottom left.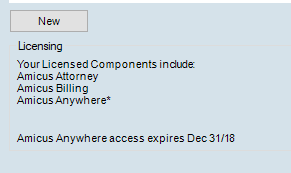 Amicus Anywhere column is there but no one can access the program
1
If you have the Anywhere column but no one can access Amicus Anywhere from any web browser with Internet connectivity access Firm Settings – General – Notifications and set the option to "Use Amicus cloud-based service" . Select Test Now.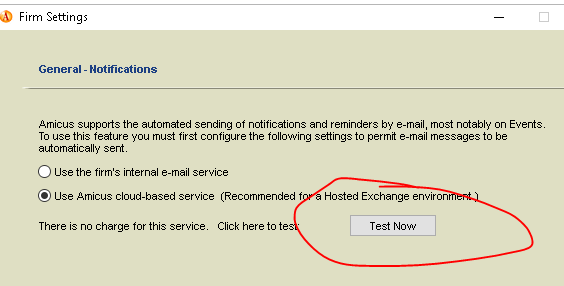 Anyone designated as an Amicus Administrator will receive an email from Notifications@amicusattorney.com Notifications@amicusattorney.com (again check your junk\spam folder). There is nothing you need to do with these emails
2
Then access Firm Settings – Maintenance – Utilities and then Reset.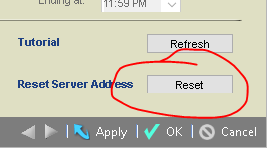 This will trigger an email from Registrations@amicusattorney.com as well as warning message (please checks your Junk\Spam folder and consider whitelisting this email address).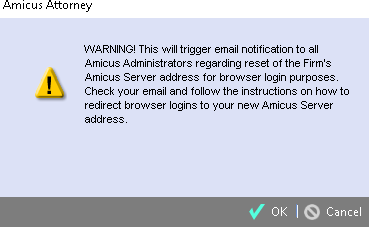 The emails will be sent to the Amicus Administrators. You will need to access the email and activate Amicus Anywhere within 72 hours. The hyper link will take you to the Amicus Anywhere login page (www.amicusanywhere.com) Login with your email address and your password. Please note it can take up to 15 minutes for the activation to occur.
If subsequent Anywhere users do not receive an email uncheck and recheck their Anywhere option to trigger a new email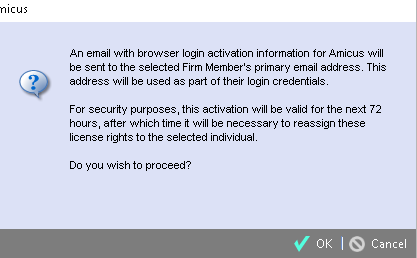 If you receive a message while logging in that your Anywhere account has been blocked or suspended please contact sales at 1-800-472-2289 or email licensing@amicusattorney.com or sales@amicusattorney.com and update your maintenance\advantage plan