If you are looking to set up Document Search and you are using AbacusLaw through Abacus Private Cloud, please contact AbacusLaw Client Services at 800-726-3339 for assistance.
AbacusLaw allows searching the text (rather than simply the title) of linked documents via the Documents tab on matters or via Global Search. Below are instructions on how to set up this feature:
The below instructions apply to servers and workstations that use Windows 7 or higher.
Index
AbacusLaw Setup
The instructions for reaching the Document Search Setup will vary slightly if your AbacusLaw version is below v23.24, as the layout of System Options changed in this version.
Open AbacusLaw on the server where the AbacusLaw database is installed.

Navigate to

File > Setup > System Options

.

Open the

Features

tab.

Click the cog next to

Document Search

.

The Document Search Setup window appears. Under

Additional Folders to Search

, ensure that all folders in which you store linked documents are added.

Document Search will

ONLY

function with folders stored on the same server that the AbacusLaw database is installed on. It

cannot

search documents stored on a separate file server, or any workstations.

You may also want to check

Limit search to folders already in linked documents

. This can improve the speed and accuracy of search results.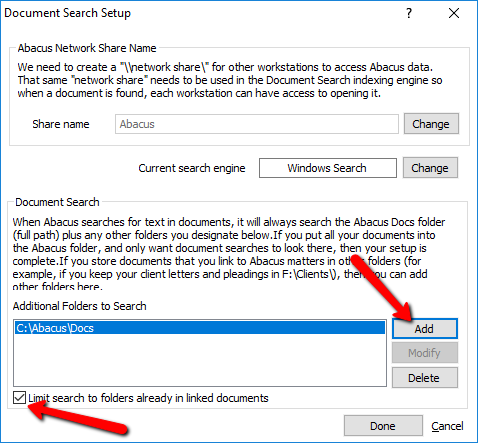 Server Setup
The Document Search feature uses Windows Search to search through documents. For Document Search to work, Windows Search must be set up properly on the server. Log into your AbacusLaw server's desktop, and check the following:
Ensure Windows Search Service is Enabled
Open

Services

. This can be found in the Windows Control Panel, or by searching in the Start Menu.

Find

Windows Search

on the list of services, and ensure that the status is

Running.


If you do not see Windows Search on the list at all, then the Windows Search feature most likely has been disabled. On Windows Server, this can be re-enabled within the Server Manager

. Contact your IT or system administrator for assistance in re-enabling it.

If not, right-click on the service, and click

Properties

.

Ensure that

Startup type

is set to

Automatic (Delayed Start)

, then click

Start.


Ensure the Specified Documents Folders are Indexed
Open

Indexing Options

. This can be found in the Windows Control Panel, or by searching in the Start Menu.

Click

Modify.




Ensure that the drive locations that you included under Additional Folders to Search in your Document Search Setup inside AbacusLaw are checked off to be indexed on this screen.


If you have added any new locations on this screen, Windows will now need to build indexes for those locations. Depending upon the amount of content in the folders, and how much the content is being accessed while it is being indexed (indexing is slower while the files are being accessed), this can take anywhere from an hour to several days to complete.
Searching PDF Contents
To search the contents of PDFs, you must have a PDF reader installed on your server which provides a PDF iFilter (such as Adobe Reader, or Adobe Acrobat).
If you needed to install a PDF reader, and already indexed the contents of your Abacus documents folders, you will need to rebuild those indexes before you can search the contents of PDFs.
User Account Setup
Because Document Search relies on being able to use a Windows Search index that is stored on the server, rather than on the workstation where AbacusLaw is being used, the users on each workstation need to have sufficient access to be able to use server indexes. Contact your IT or system administrator to ensure that each user has access to do this, especially if your users are part of a domain.
Workstation Setup
As on the server, the Windows Search service must be enabled and running on each workstation to be able to use Document Search on that workstation. See Ensure Windows Search Service is Enabledabove for instructions.
Troubleshooting
Document Search Returns No Results/Incomplete Results
We recommend testing the following to troubleshoot:
Test if Document Search finds the contents if you perform the search within AbacusLaw on the server. If so:

Ensure the Windows Search service is enabled and working on the workstation.

Try logging in as a local or domain administrator on the workstation, and try again. If the search works under this login, it indicates an issue with user permissions is preventing access to the server indexes.

Ensure that the network share where these documents are located is accessible from the workstation it was tested on.

If Document Search still does not find the results on your server:

Ensure that the files you are trying to search are located in a folder that is included under your folders list in AbacusLaw's

Document Search Setup

Ensure that the files you are trying to search are located in a folder that is being

indexed by Windows Search

. If they are not, give Windows Search some time to index the new folder (or the new files, if you simply copied them to an already indexed directory) before trying again.

If the above are true, and you are still not seeing the search results, try having Windows Search rebuild your indexes. This can be done by clicking

Advanced

within your Indexing Options window, then clicking

Rebuild. Note that this can take some time to complete, and, in the meantime, your documents will not be fully searchable (even in the Windows File Explorer's search bar).


Search is Slow
Windows may be currently indexing the contents of your folders. This can happen any time automatically, especially when new files are added. Try again later.
Performance is also mediated by the speed and usage load on your server, as well as your network connection to the server. Try the same search in AbacusLaw on your server, and compare the speed to test if the slow search is related to your network performance.