This update is packed with everything you need to have a productive tax season.
Important Please Read
All OfficeTools by CARET users will be required to update at the same time. In the event, a user remains on 3.8 or an older version they will not be able to log into the program until the 3.9 update is applied. In order to minimize any negative impact make sure everyone in your office is able to update at the same time.
Summary of Changes with 3.9
Performance Improvements
Client Address added to Portal
APX for Onboarding new clients
APX Card Management on the Portal
In case you missed the last update, below are the new features delivered with 3.8
3.9 New Features
Incorporate APX while Onboarding new clients
Streamline the new client onboarding process where payment processing is required at client intake/creation.
When creating a new client in OfficeTools by CARET you will notice a Payment Collection Button at the bottom of the form. After filling in the contract information select either Create A Payment or Collect a Retainer.

Client Address In Take via the Portal
Back by popular demand! Clients can now update their contact information via the portal. This is a great addition to the portal to reduce the administrative collection of annual or new client contact information.
Control data-related fields for clients to use to update their information and see it automatically update date OfficeTools.
To enable this feature, go to Setup > My Company > Information and Settings > Integrations > Portal > Firm Portal Setting and Configuration.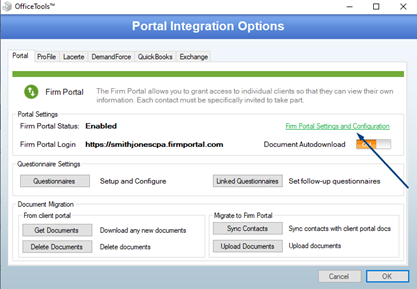 Configure the fields you want your client to update and/or require missing or important fields. Clicking Save will enable this feature, change it at any time if you want to include or reduce the fields customers have access to.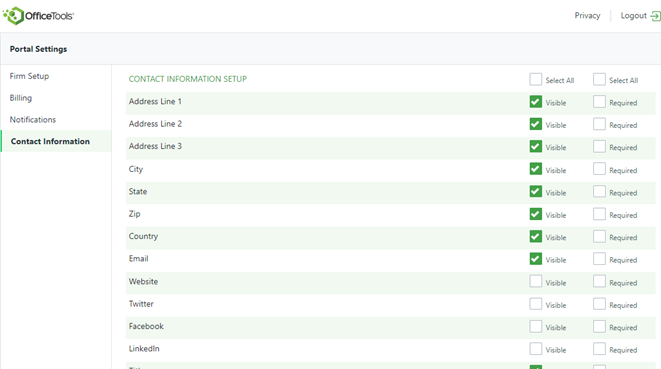 How clients can update their Contact Information
When a user logs in they will update their information by going to settings > Contact Information. User inputs will automatically show up to be approved in OfficeTools by CARET. See the next screen for the approval process.

Manage the quality of the data customers are updating.
This form will display when a user has made a change to their contact information. It will allow data comparison by showing the original information next to the changes the client has made. If there is an unwanted change(s) uncheck the "Approved" box and click apply. Integrations such as Lacerte, QuickBooks (Desktop and Online), and OL/Exchange will propagate these changes as if a user was updating the contact in OfficeTools by CARET manually.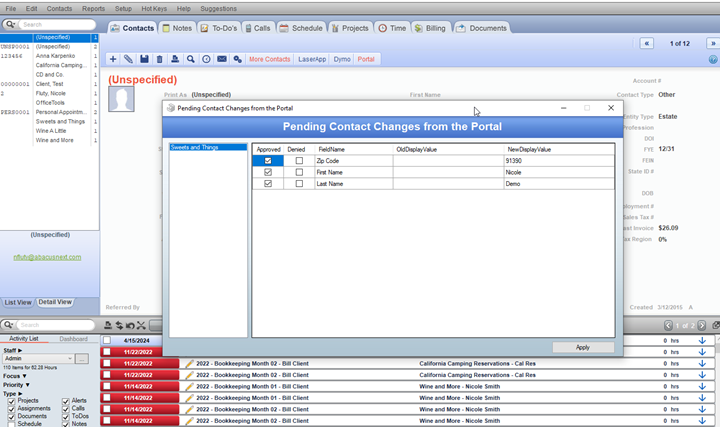 If you didn't get a chance to approve the changes you can review and approve at the client level. Go to the Portal button on the Contacts Tab and select "View Pending Contact Changes."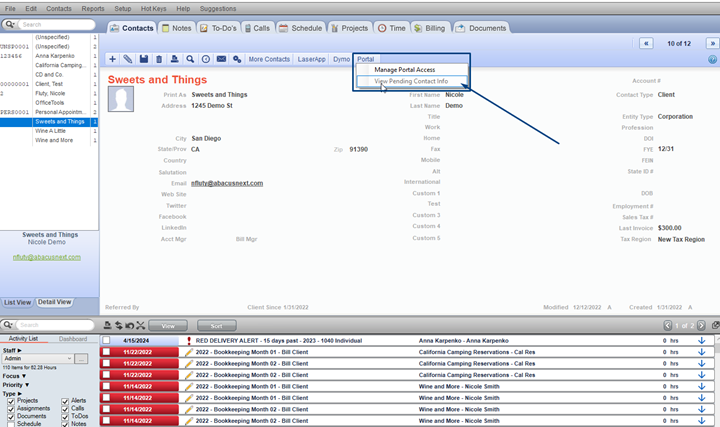 APX Card Management via the Portal
You asked for a PCI-compliant way for your clients to manage their payment methods. No more sticky notes with credit card information as clients can now self-manage the cards associated with their accounts. This includes adding new credit cards or when a credit card expires. All payment methods will be accessible in OfficeTools by CARET.
The client will log in to the Portal > Select Setting > Manage Payment Methods.