This covers steps for adding balance forwards on matters. If you would like to add beginning balances on your General Ledger accounts, see this article: Entering Beginning Balances in Abacus Accounting.
If you are opening a matter that has a billing balance or trust balance carrying over from another matter, database, or a different Accounting software, read below for steps on how to log this in Abacus Accounting.
Entering a Balance Forward when Linking a BillTo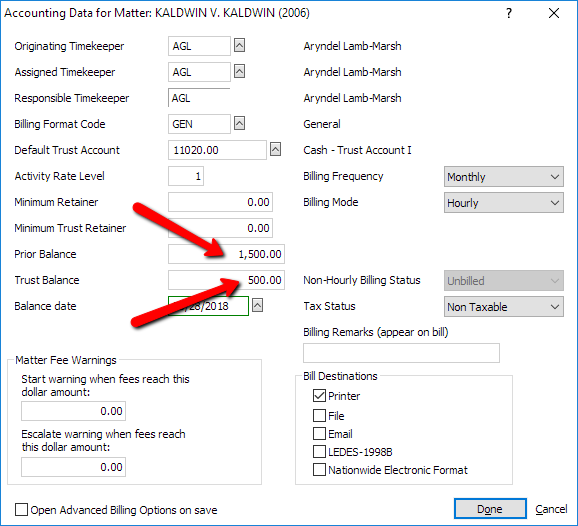 After linking a BillTo on a matter in AbacusLaw for the first time, the Accounting Data for Matter window appears. On this window, you are able to enter a Prior Balance (for billing) and Trust Balance.
This will be added to the matter's Matter Billing Activity and Matter Trust Activity in Abacus Accounting when it is saved.
Entering a Balance Forward after the Matter Has Been Linked
If you have already linked the matter to Abacus Accounting, you can do the following to add balance forwards:
For Billing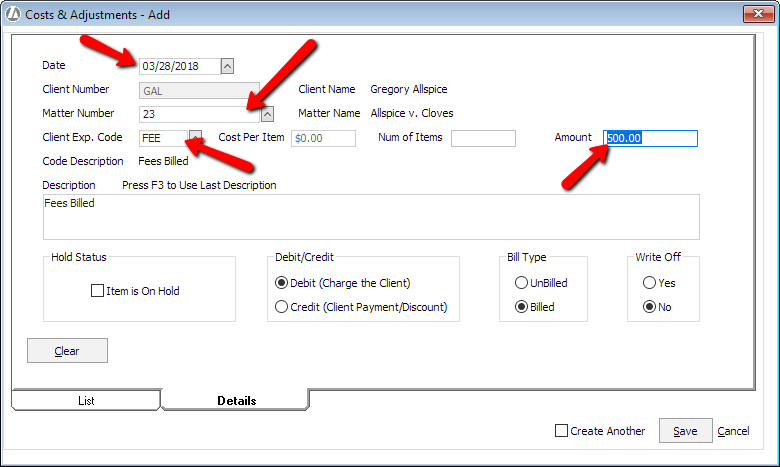 Navigate to

Billing > Costs & Adjustments

.

Click

Add

.

Set the

Matter Number

,

Date

to the date of the last billing,

Client Exp. Code

to

FEE

, and enter the

Amount

.

Click

Save

. Highlight the cost & adjustment, and click

Post

.
The posted item will be automatically marked as Billed. It will appear on the next bill as a prior balance, but NOT as a new billed item.
For Trust
Simply enter a trust deposit (Trust > Trust Deposit) on the matter for the amount of the trust balance carrying over.