Trust adjustments allow modifying the trust money associated with a matter without affecting the general ledger at all. They are useful in situations where you need to add a trust transaction to correspond to a journal entry where the matter trust activity is missing, or when one matter's funds need to be adjusted to move them to another matter.
Trust adjustments should be used with EXTREME caution. Trust adjustments can easily result in a variance between the trust funds associated with all of your matters, and the trust funds recorded on your general ledger. Not only does this open the possibility of misusing client trust funds if they are unaccounted for, it also prevents reconciling your trust account in Abacus Accounting!
To enter a trust adjustment: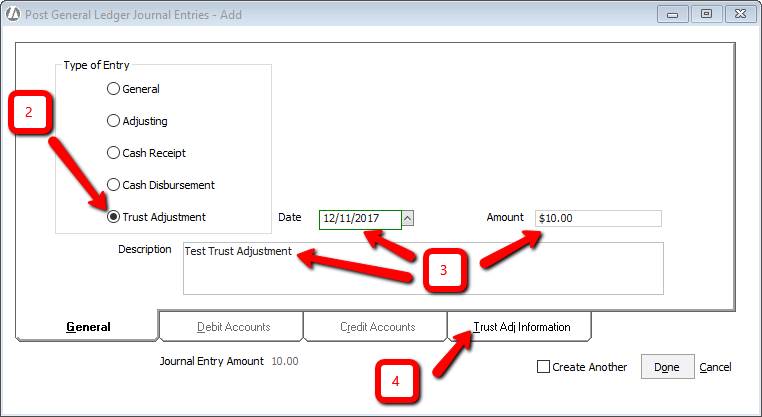 Navigate to

G/L > Post Journal Entries

. Click

Add

.

Select

Trust Adjustment

as the

Type of Entry

.

Enter the

Amount

,

Date

, and

Description

.

You will notice that the Debit Accounts and Credit Accounts sections are now grayed out. This is because Trust Adjustments cannot be made to affect the general ledger, only a specific matter's trust activity.

Click on the

Trust Adj. Information

tab.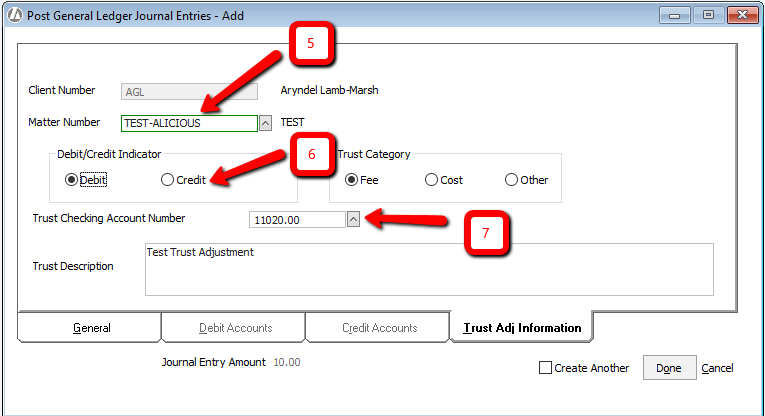 Enter the

Matter Number

for the matter you would like to adjust the trust funds on.

Choose whether the adjustment is a

Debit

(

increases

trust funds) or a

Credit

(

decreases

trust funds).

Pick the

Trust Checking Account Number

that these funds will be associated with. Although the trust adjustment will NOT affect your general ledger, this will determine what account the transaction is listed under in your Matter Trust Activity.

Click

Done

. On the Post General Ledger Journal Entries screen, highlight the trust adjustment, and click

Post

.