This article covers instructions on how to create a contact using the Customer Account Portal as a Portal Manager.
Requirements
You must have access to the Customer Account Portal with Portal Manager permissions on the account to create contacts.
Steps
1. Log-in to portal.abacusnext.com with you email (user name) and password.
2. Navigate to the Employees page.
3. Click the "+" symbol to the upper-right of the page.

4. Fill out all required fields on the following page.*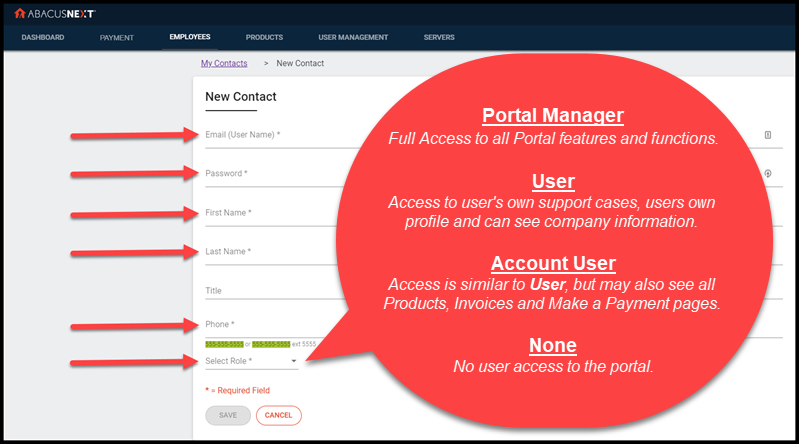 * NOTE: The Select Role section is important, as it indicates what level of access to the Customer Account Portal this user will have. See below for a description of each role.
Portal Manager - Full Access to Portal Features and Functions.

Only the Portal Manager role includes the ability to

Add or Remove Users

Request to add or remove software in hosted environment

Access to Products, Invoices and Payments pages

View into Support cases for self and all users

User - Access to user's own support cases, user's own profile and may see company information.
Account User - Access is similar to a User, but may also see all Products, Invoices and Make a Payment pages.
None - No user access to the Customer Account Portal.
5. Press Save and you're done!