Add the client's credit card or ACH information as a payment method in OfficeTools to begin using APX. Ongoing payment method maintenance will ensure billing accuracy.
Select Billing > Payments and click the APX
In the APX window, click Manage Cards.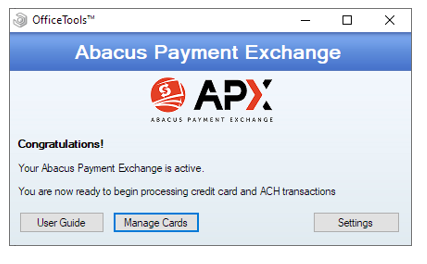 The Card Management window opens. From here you can do any of the following.
a. Add a payment method:
Set Company Name to the client and click Add Card.
NOTE: You can open this window and maintain cards on the fly by clicking Manage Cards in the Payment Management window when creating a payment.

The Add a New Payment Method window appears. Select to add a credit card or an e-check or ACH account. Then, enter the information for the payment method and click SUBMIT.

Enter the billing address information and click SAVE.

Click SUBMIT.

The payment method is added for the client.

b. Delete a payment method by highlighting it and clicking Delete Card.
c. Set one payment method as the default by checking Default for it. This ensures that the payment method will be applied automatically for the selected client's payments.