If an event is syncing from Outlook (and AbacusLaw by CARET seems to indicate that it synced successfully), but you either cannot see it, or the event syncs with information missing (e.g. the title is truncated at the beginning), this is typically related to issues with the formatting AbacusLaw by CARET expects for "detailed events" in Outlook.
Detailed Event Creation
Since Outlook doesn't have fields for many AbacusLaw by CARET event fields (such as who codes, what codes, and the linked name/matter), AbacusLaw by CARET supports including certain specialized formatting in the title of the Outlook event that fills in this information in AbacusLaw by CARET when it is synced. The formatting for this is:

WHO: (WHAT) LinkedName (LinkedMatter) Text

For more information on detailed event creation, see this article:

Creating Simple and Detailed Calendar Events for Outlook Sync

.
Common Formatting Issues (Who and What Code)
In some cases, an event will be entered in Outlook that inadvertently has some of this formatting, and causes the event to sync in an unexpected way.

The two most common sources of issues with this are the

"WHO:"

and

"(WHAT)"

at the beginning. The following examples would trigger detailed event creation, even if you did not intend to:

An event title that starts with text encased in parentheses (e.g. "(IMPORTANT) Update Abacus"). IMPORTANT will be inputted as the

What code. And, of course, this text will be missing from the event's note in

AbacusLaw by CARET

.

An event title with text followed by a colon (e.g. "IMPORTANT: Call client #12345678"). The IMPORTANT will be inputted as the

Who code on the event in

AbacusLaw by CARET

. If your calendar is set to view only certain Who

codes, you may never see the event, because the

Who

code does not match what you have set to view on your calendar.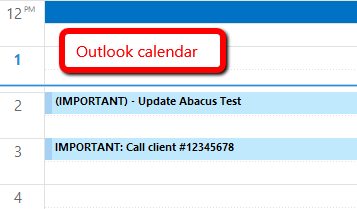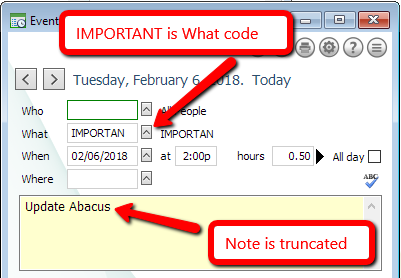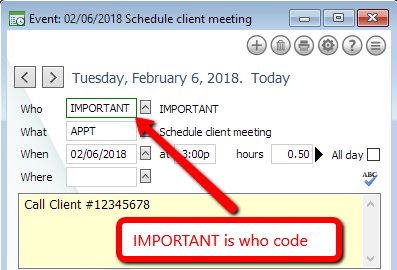 Troubleshooting
If the event is truncated, open the event, and see if part of the missing text appears in the

What

field (as in the above screenshot).

If the event is missing, try clicking

WHO

at the top right of your calendar, then click

Set to All People

. Check if you can see the event now. If so, check the

Who

on it. Manually change the

Who

code to the intended code if needed.