---
About Amicus Automated Event Reminders\Notifications
Users can set Calendar Events in Amicus to automatically send e-mails:
*Reminders to people associated with an upcoming Event
*Change Notifications to people associated with an Event that has been rescheduled or otherwise changed
Users may also set a preference to receive their daily agenda every morning. And Amicus Administrators will be notified when Amicus Updates are available or a user attempts to log in repeatedly with an incorrect password.
Enable e-mail notifications
1
Go to the Office module, choose Firm Settings, and click General – Notifications. The Notifications view appears.
2
Choose how you want email sent from Amicus: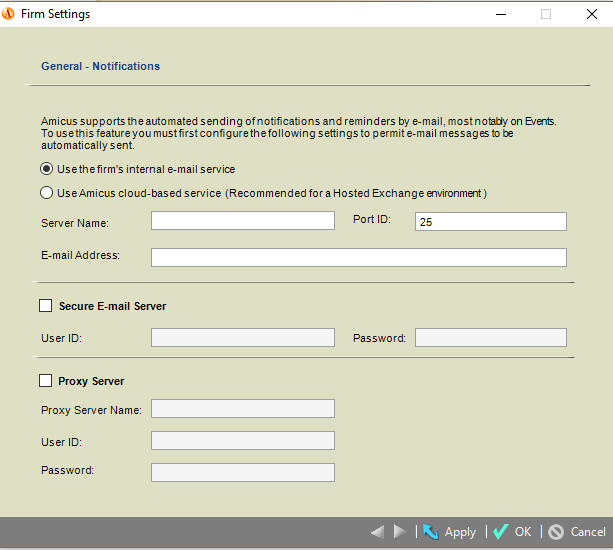 *Using your firm's internal e-mail system (via your firm's own Microsoft Exchange Server's Relay Service or an SMTP server), or
*Using the free cloud-based Amicus service (recommended if your firm uses a hosted Microsoft Exchange service or does not want to turn on their own Exchange's Relay Service)
You will need to know your firm's SMTP settings if you choose Internal email service.
3
Continue as appropriate below.
4
To use Amicus Cloud-based (recommended) select the option
5
Click Test Now to send a test e-mail to your Amicus Primary E-mail address, and then check that you receive it.
If it goes to your Junk Email box, you'll need to set this Sender to your e-mail provider's Save Sender's list and we recommend that you advise all Firm Members to do so as well.
Any failure to relay a notification will be recorded to the Amicus Server Log (SMTP log), available from the Windows Start menu at the Server: Amicus > Amicus Attorney Premium Tools > Server Logs.
Reasons for not getting notifications
The domain @abacusnext.com is black listed or marked as spam

The firm's Internal SMTP has changed
Please ensure that you have white-listed the abacusnext.com domain, that users check their junk\spam for emails from notifications@amicusattorney.com and mark them as Not Junk
Tip
Use the Amicus Cloud-based notifications if your firm is not receiving notifications on internal SMTP