INTRODUCTION:
It is Abacus Private Cloud policy that we only whitelist Static IP addresses. We do this because if the IP address changes it will cause your service to be disrupted and will require reconfiguration. To avoid this, we need proof of the Static IP address from your Internet Service Provider (ISP).
APPLIES TO:
If you are trying to configure Scan to FTP or an MFA Bypass, you will need Abacus Private Cloud to whitelist the Static IP address of your Office Router.
REQUIREMENTS:
REQUIRED: Verified STATIC PUBLIC IP ADDRESS from an ISP
Please provide one of the following to confirm your ownership of a static IP address.
a) an email from your ISP confirming the public IP address is static
b) a screenshot of the WAN configuration page of the router in your office
Please note:
a) Each office will need a static IP to be whitelisted
b) The configuration applies for all servers
IP ADDRESSES: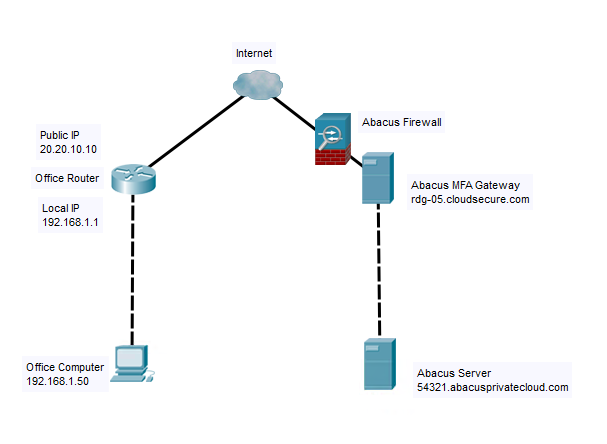 Public vs Private IP addresses
Please keep in mind that there is a distinction between your Local IP and Public IP addresses. Your router typically has two ports; an Ethernet connection to your local computers, printers, and devices; and then a Coax cable that runs out to the street to your provider.
The devices that are connected to that Ethernet connection make up the local network. These all have their own private IP addresses that are used in office only.
The Internet connection goes out the Coax cable to the ISP. This connection uses a Public IP to identify the whole office with a single address. When the local computers browse the Internet, their IP address will be seen as their Public IP, not Local.
This is why it is important to provide the Public IP, because we need to whitelist the entire office!
Visit the website ipmonkey.com to verify what your public IP address is. But please note that this is not sufficient proof of the static IP. Please see requirements.